United States Holocaust Memorial Museum Case Study by Danielle Caparas

UX Designer for the Android app redesign.​​​​​​​
February 20, 2017 - March 13, 2017
I was very blessed to be a part of the team that was asked to re-design the Android app for the United States Holocaust Memorial Museum (USHMM). It was the most rewarding and most humbling experience I have faced as a User Experience Designer. With the current app being outdated and no longer being supported by the museum, our job was to update the app and give it even greater meaning and purpose.
"To advance and disseminate knowledge about this unprecedented tragedy; to preserve the memory of those who suffered, and to encourage its visitors to reflect upon the moral and spiritual questions raised by the events of the Holocaust as well as their own responsibilities as citizens of a democracy."
# 1.
 Stakeholder Interviews & Establishing Goals
# 2.
 Brainstorming, Creative Brief & Creating Assumptions
# 3. 
Interview potential users and create an assessment of what they need and want. 
        This helps me create user personas and the creative brief.
# 4. 
Assessing MVPs and User Sitemap
# 5.
 10x10s and Low-Fidelity Sketches
# 6.
 Implementing a Style Guide
# 7.
 Creating High Fidelity Mockups & Prototypes
# 8.
 Stakeholder Design Review
Stakeholder Interviews, Establishing Goals
Interviewing Sean, our stakeholder, gave me a good place to start. He answered all the questions I had about the current app. Questions like how many people visit the museum? How old are they? He also gave the team assets that we could use throughout the process. There were many things that I had to research myself. I collaborated and organized with my team, these lists that will help everyone stay on track. I created my assumptions, schedules, goals, interviews, and any other research that needed to be done.
My team conducted research through a survey, which received more than one hundred responses. As I carefully read through the answers, I learned about real people and how they understand the issues that we face in today's world. Things like bullying and standing up for others. More than 70% of students (13 - 18) in our survey have had an encounter with bullying. I was shocked at how high of a percentage that was. I also calculated that more than 85% of our respondents learn about world news through social media. Also, from the answers given, I assume that it didn't have to be true to be believable by the audience. This helped me make the appropriate personas for the app.
The purpose of a creative brief is to information quickly and efficiently. This document will teach you what you need to know to fully understand the project requirements and details.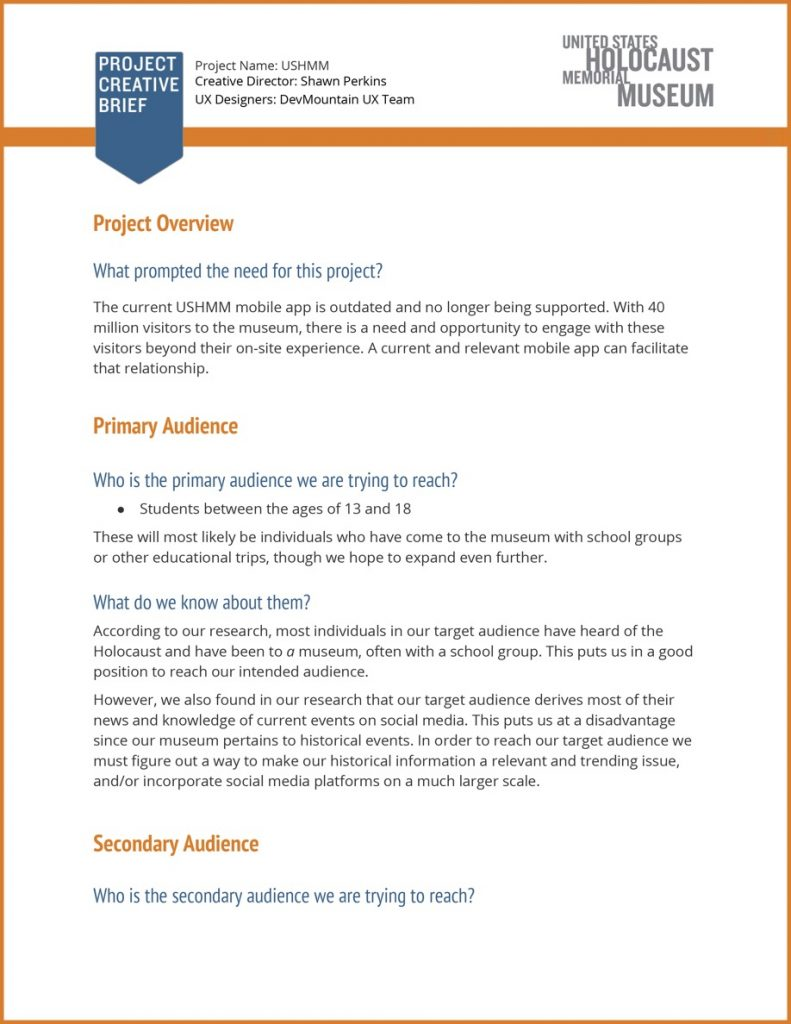 Assumptions help our team create a starting point to our user research. Each team member creates their own assumptions and hypothesis on "what don't we know?", "what do we know?", "what do we assume about our users and the app?". This launches the research phase where we create a schedule for each team members duties. Each member was assigned to two interviews with potential users. I also tried to get interviews from elderly who served in WWII. We were very focused on human-based research. With this data, we continue as a team to collaborate on who our target users are. Knowing this information helps the team create user personas.​​​​​​​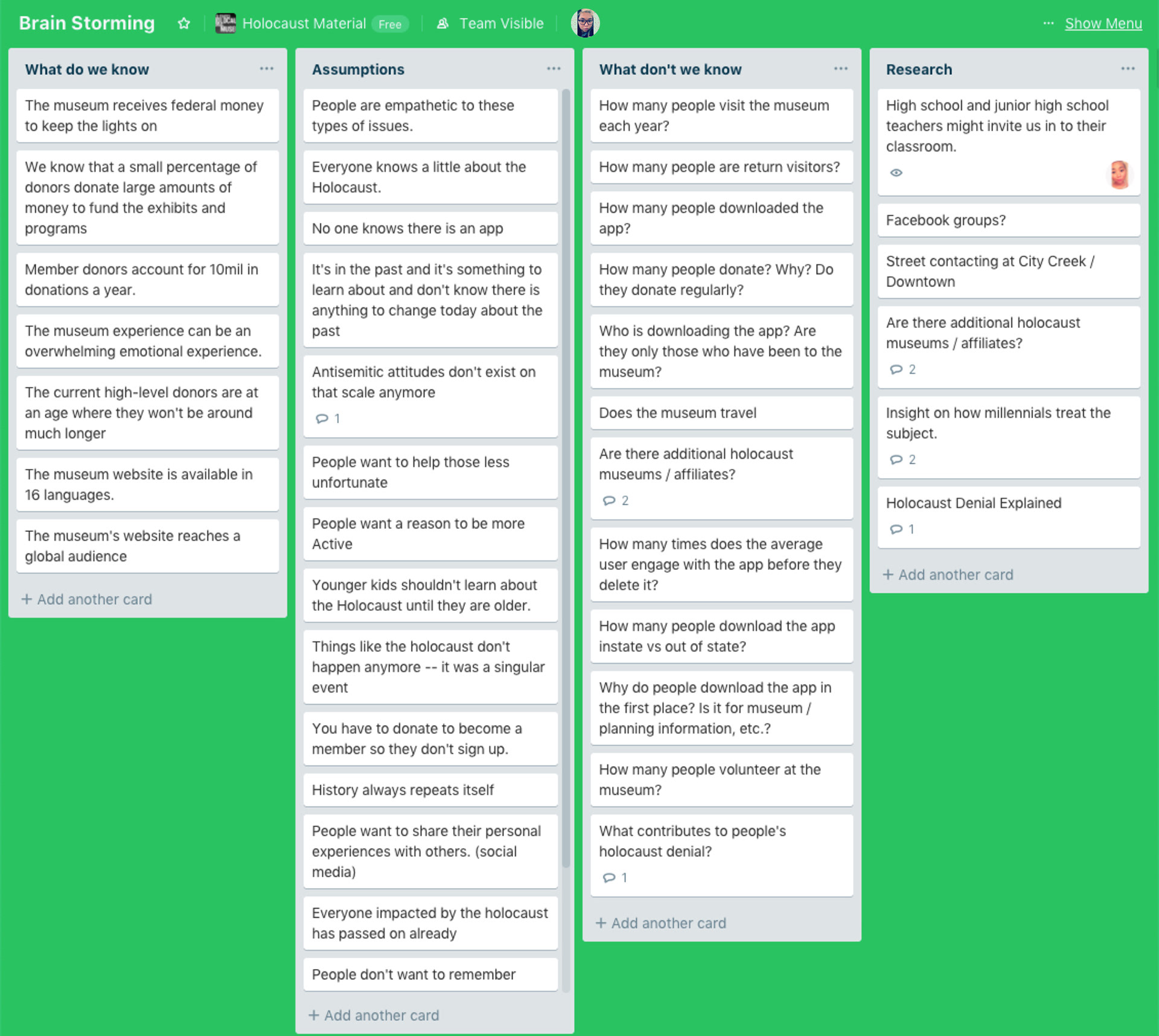 Interviews and Assessments
As a cohort, we worked on getting our surveys out to different ages and personalities. We received almost 200 responses with our online survey and in-person interviews.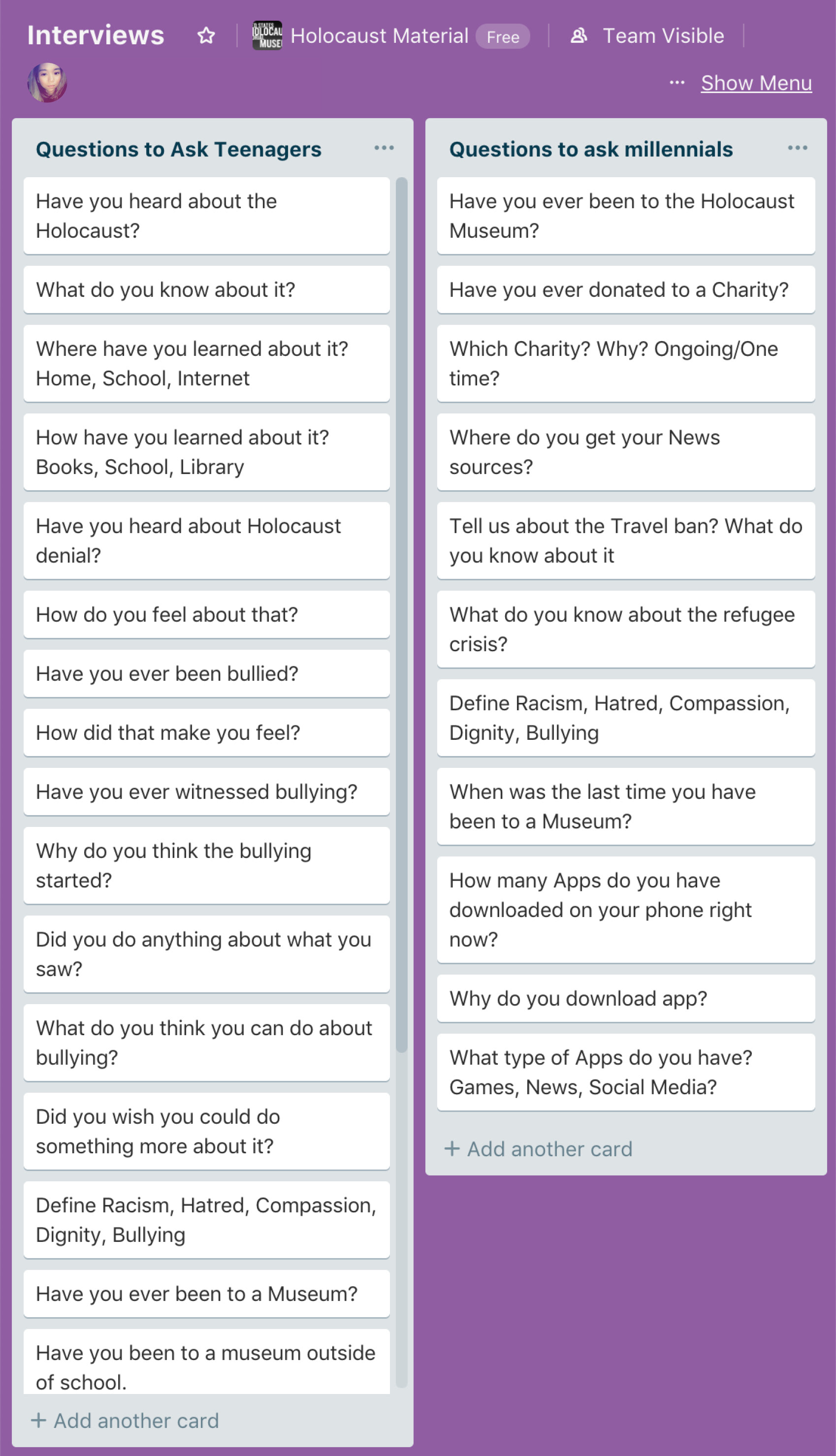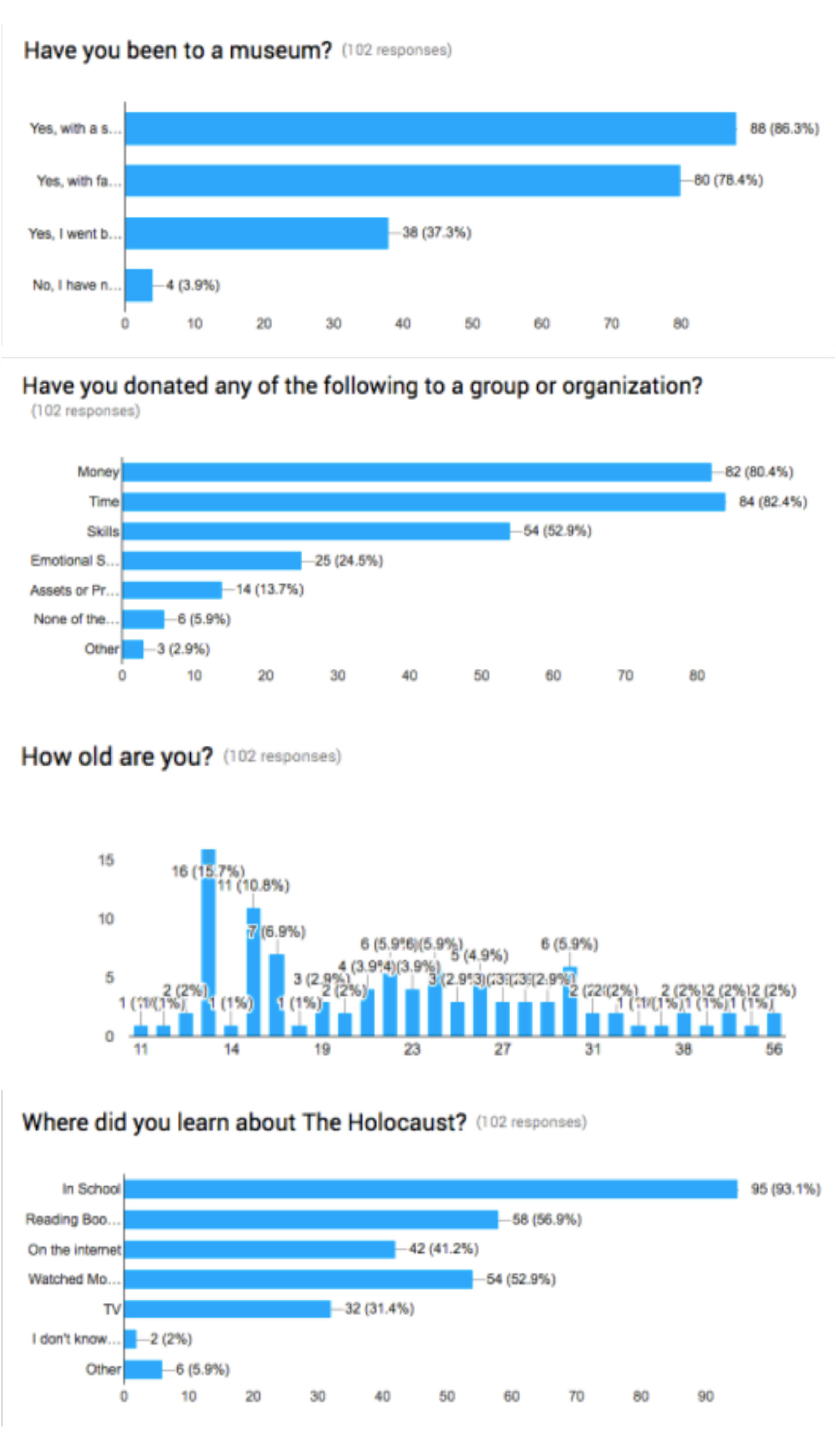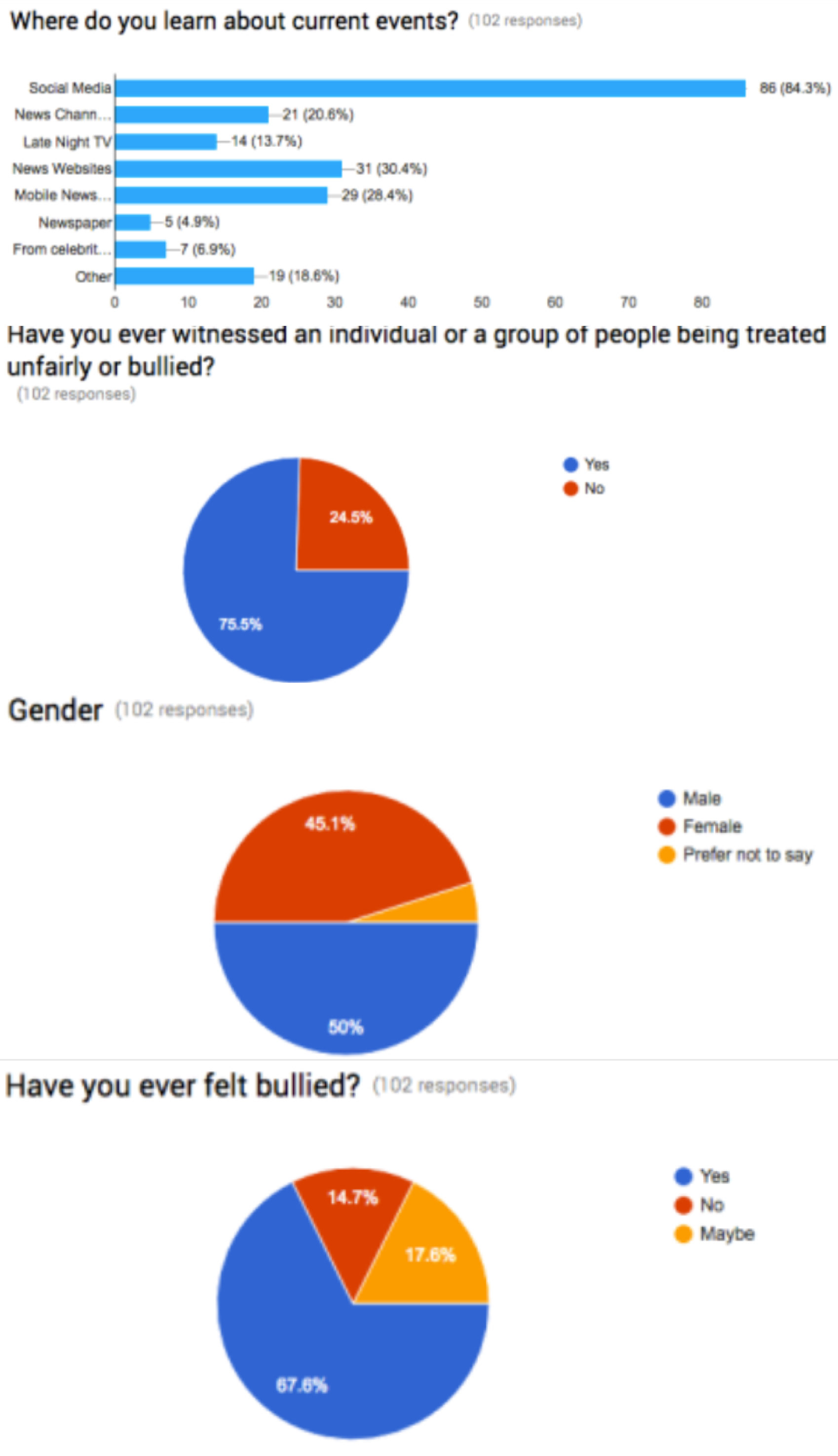 The age groups were decided based on survey answers. With that information and the information given by the museum, I was able to create user personas. I decided upon creating primary, secondary and tertiary user personas. This helps me understand the audience of the app.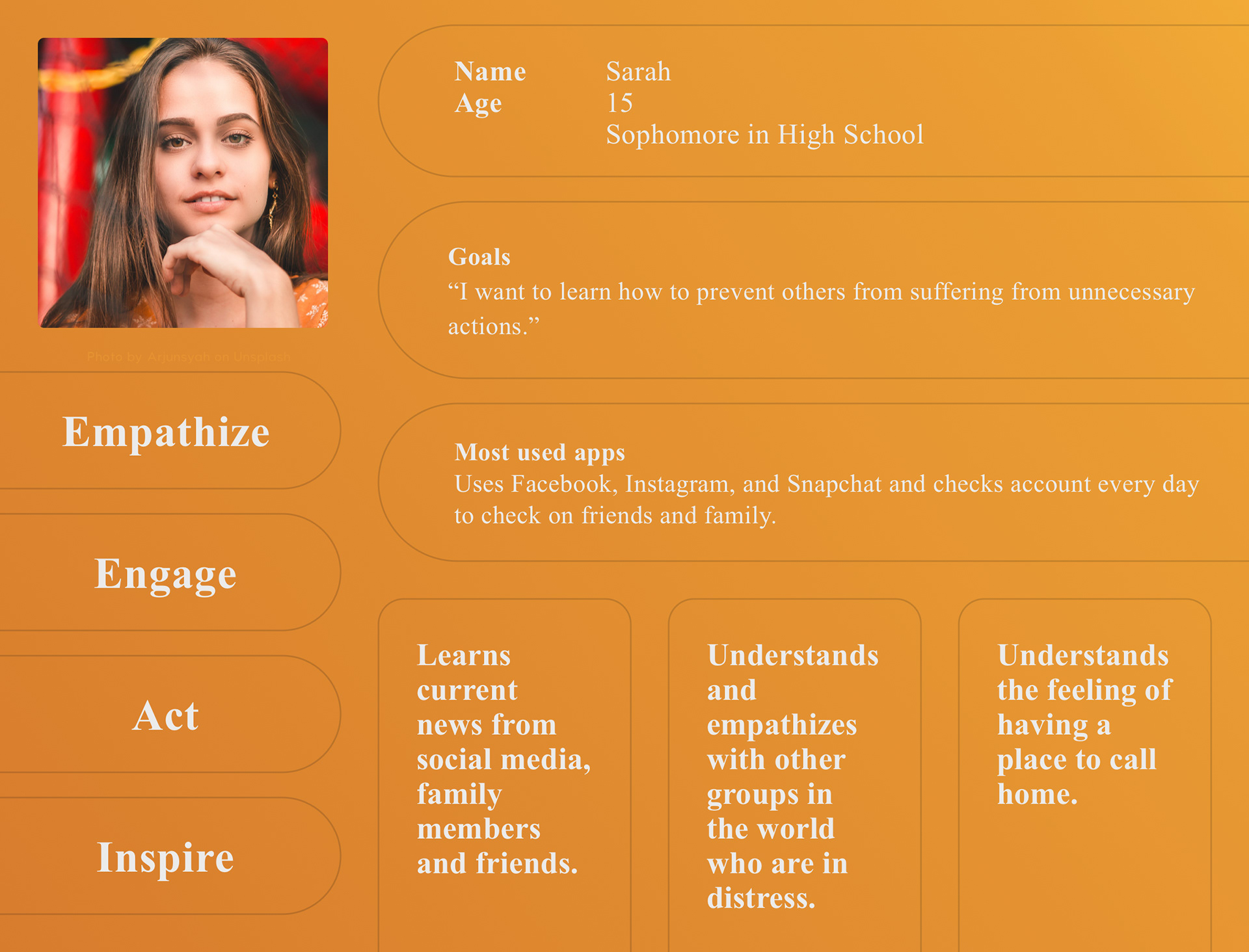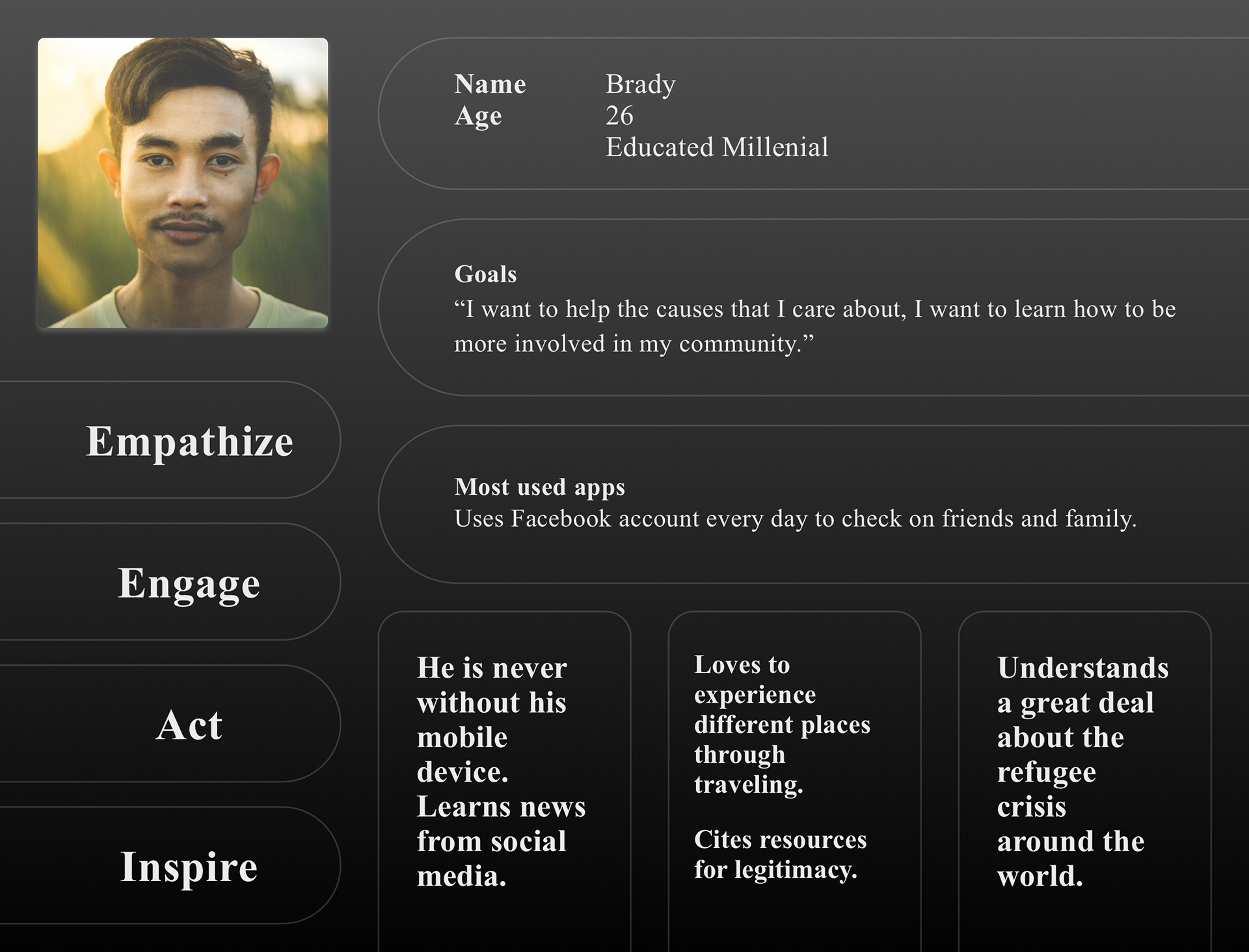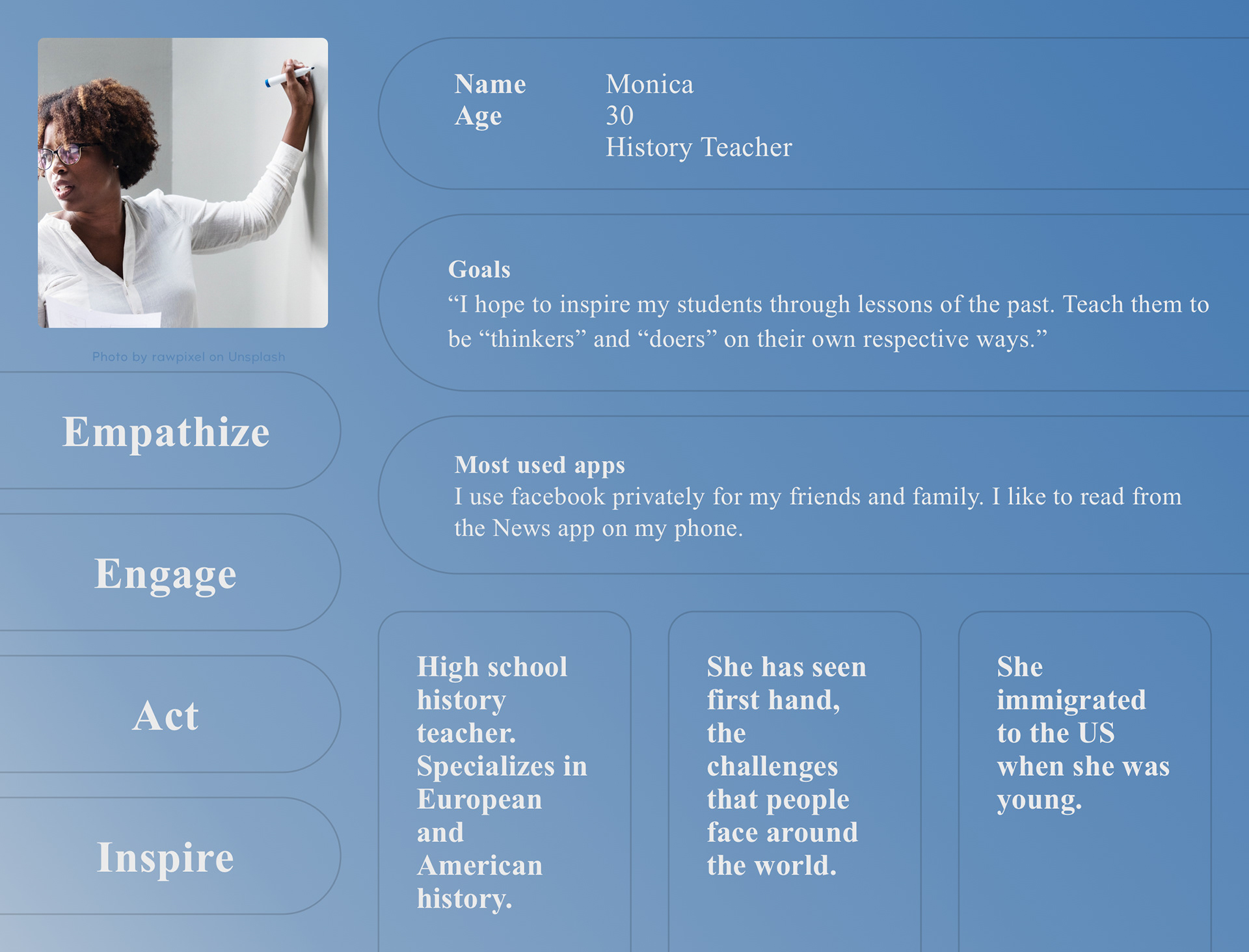 Figuring out MVPs gets my brain flowing and is one of my favorite activities. So many Post-its, my ODC loves it! I use personas and business goals to keep in mind which direction we wanted the app to go. Above the blue tape is our projects MVPs (Minimum Viable Product). Onboarding, Learn about the Holocaust, Current Events, Getting Involved and Making an Impact, Resources, and the user Profile.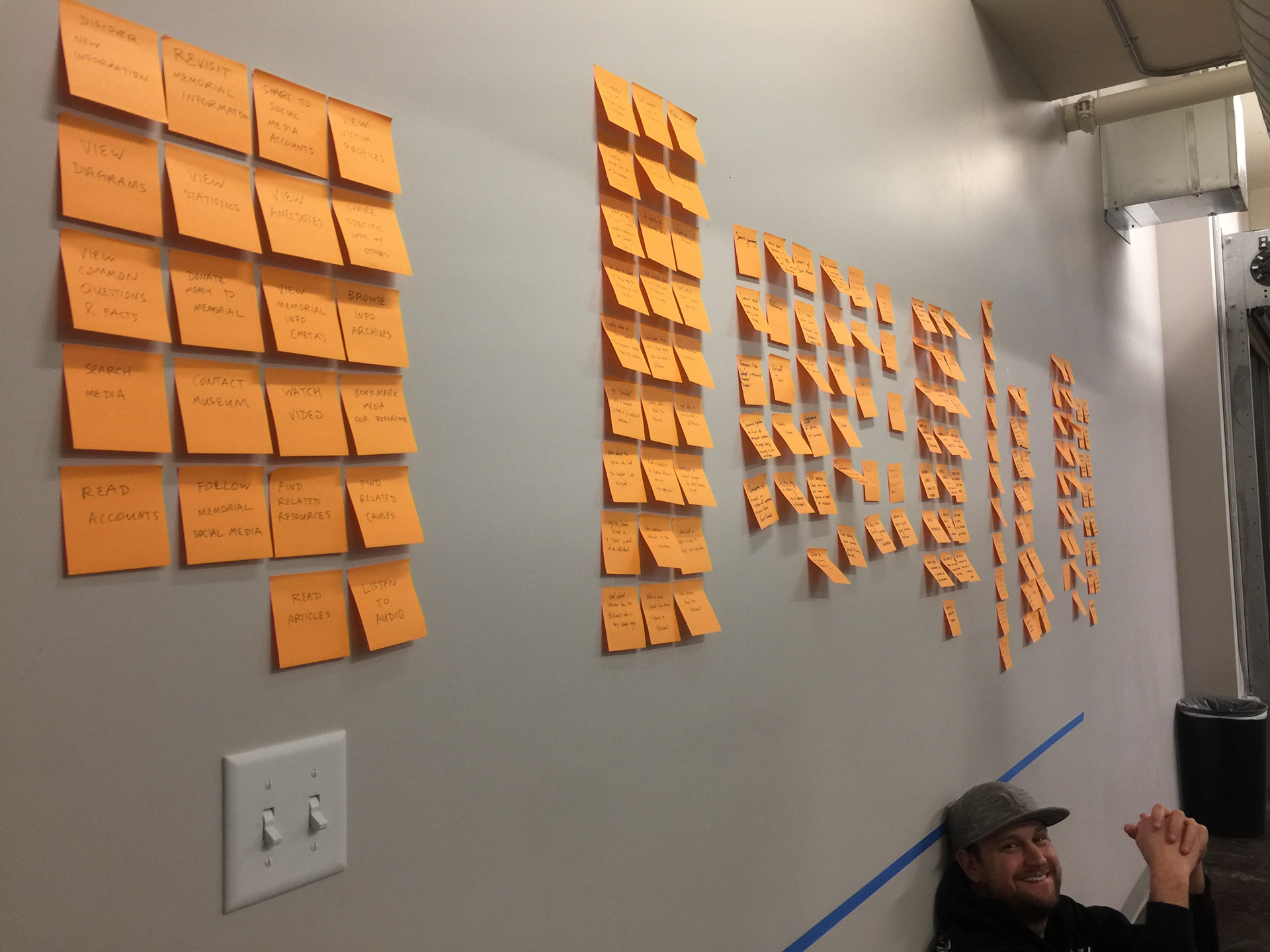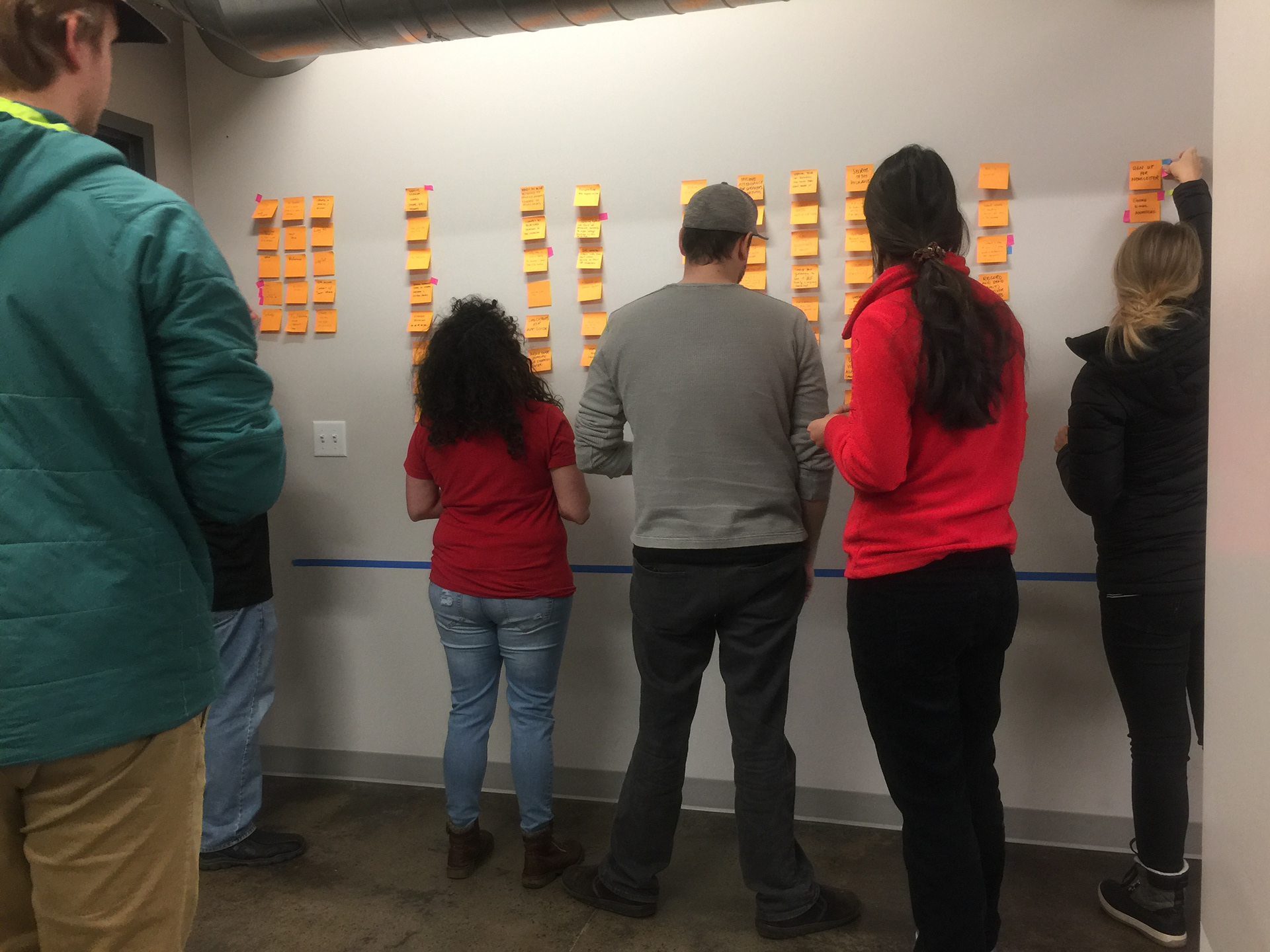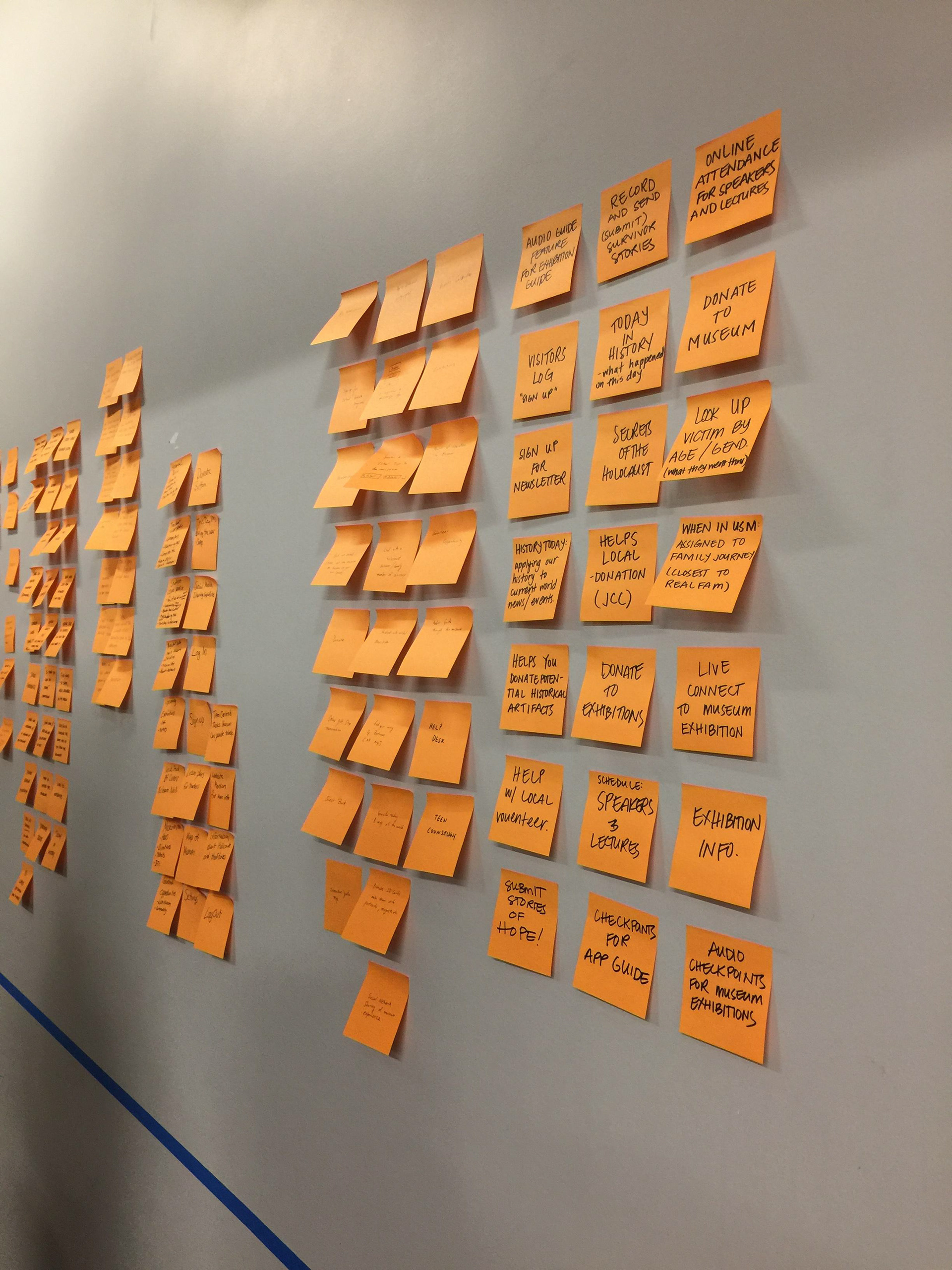 I learned that the main goals are to educate people about:
Past:
Learning focused on the Holocaust.
Present:
Current news today, local and worldwide, genocide and refugee crisis.
Future:
making a difference by getting involved and taking a pledge to make more of a difference.
[I want to acknowledge that there were alternative ideas of what the app could become. One idea was pitching that the app could have an AR Experience where it shows those unable to reach the museum of a general idea of what it could be like.]
User Sitemaps help the team hone in the flow of the app. This helps us stay focused and gives us clear direction. Especially when we assign the sections to certain team members.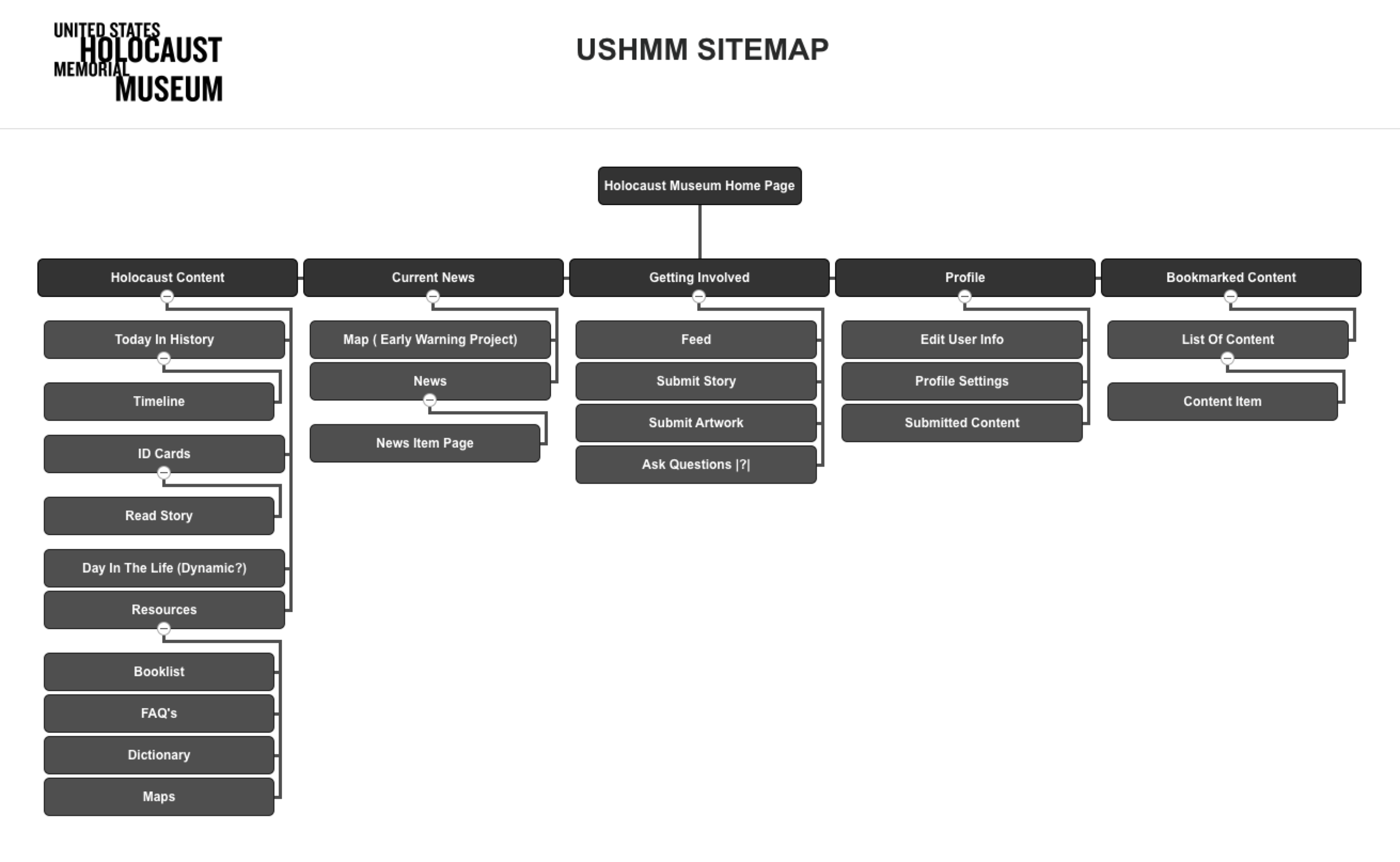 I love this exercise. I never used to be a fast scribbler but 10x10s showed me that it is a great exercise for brainstorming and creating original ideas that can work in the app.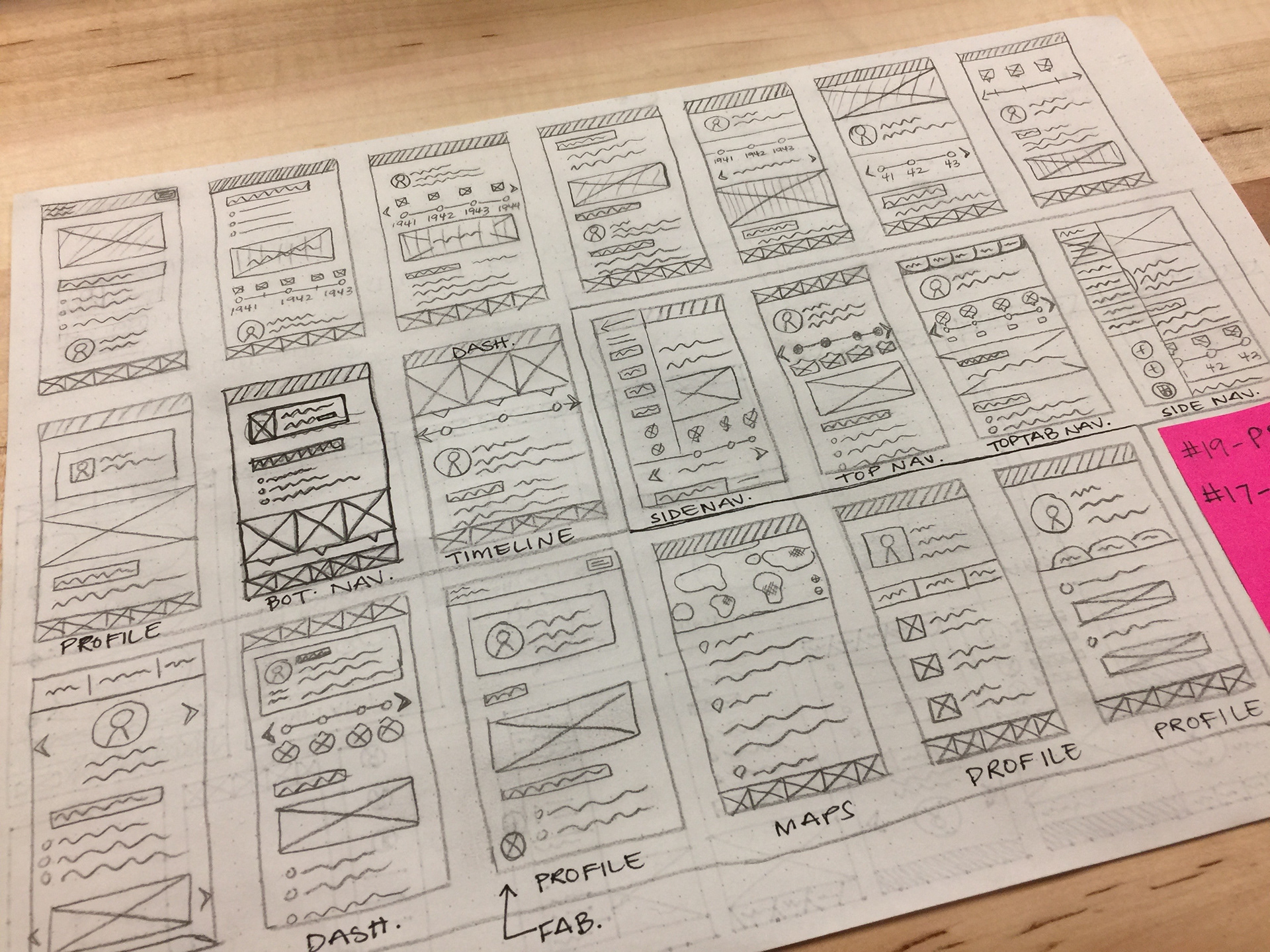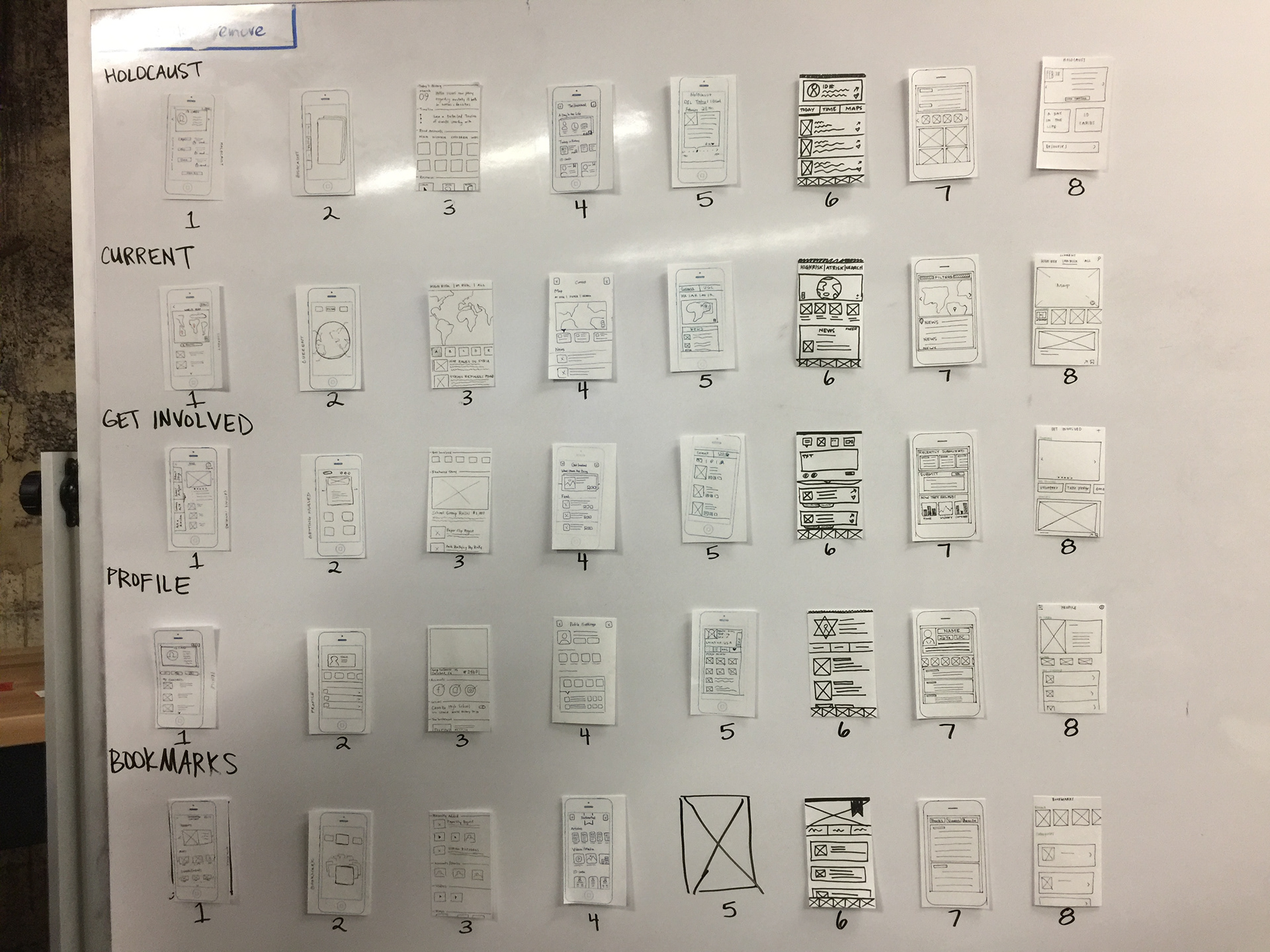 I was responsible for creating Onboarding, Profile, Making a Pledge and Writing a Story. Here are some of my wireframes that I submitted to the team to be reviewed. I had very little to change but made sure I created a UI that is easy to understand for the users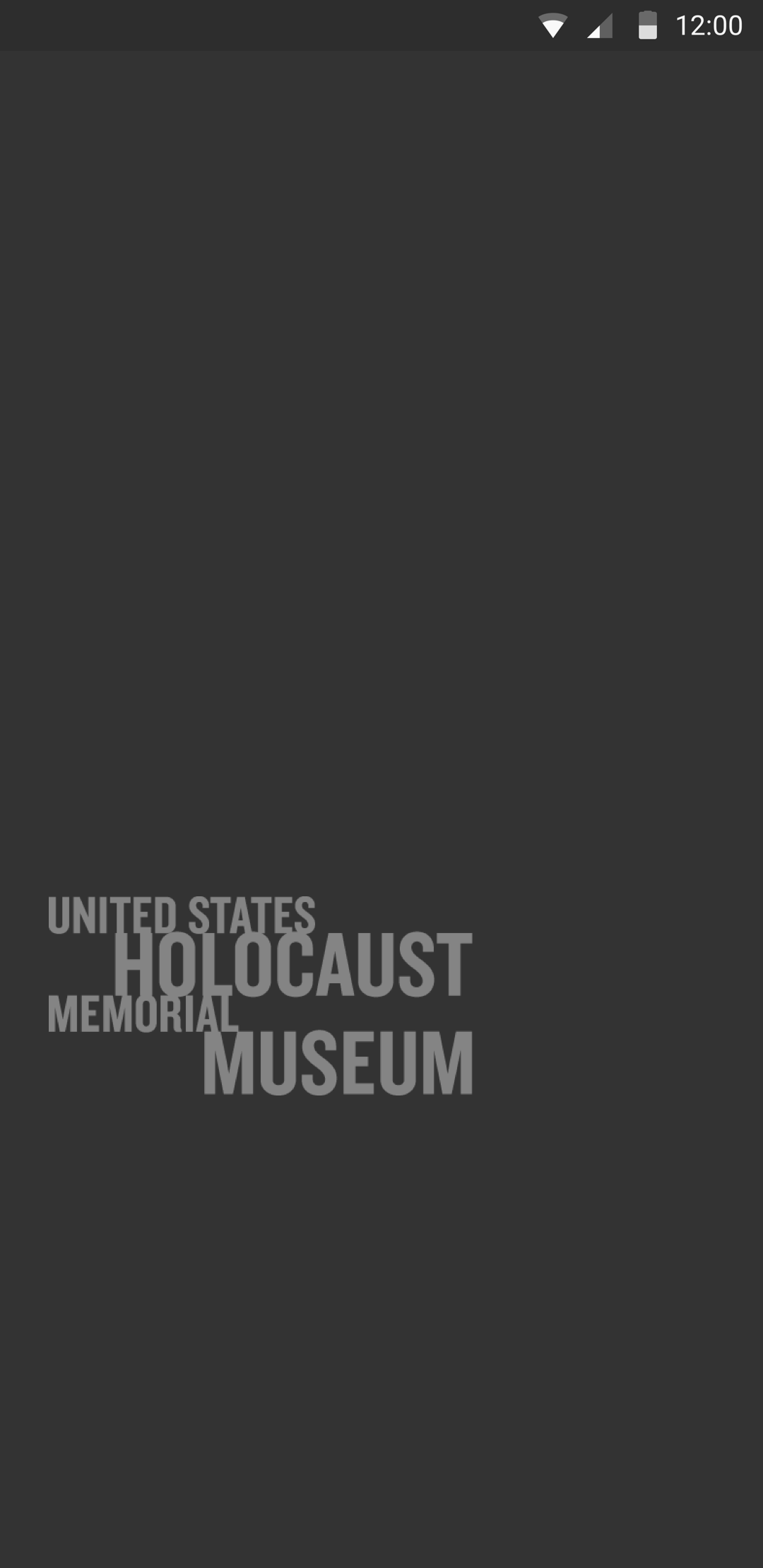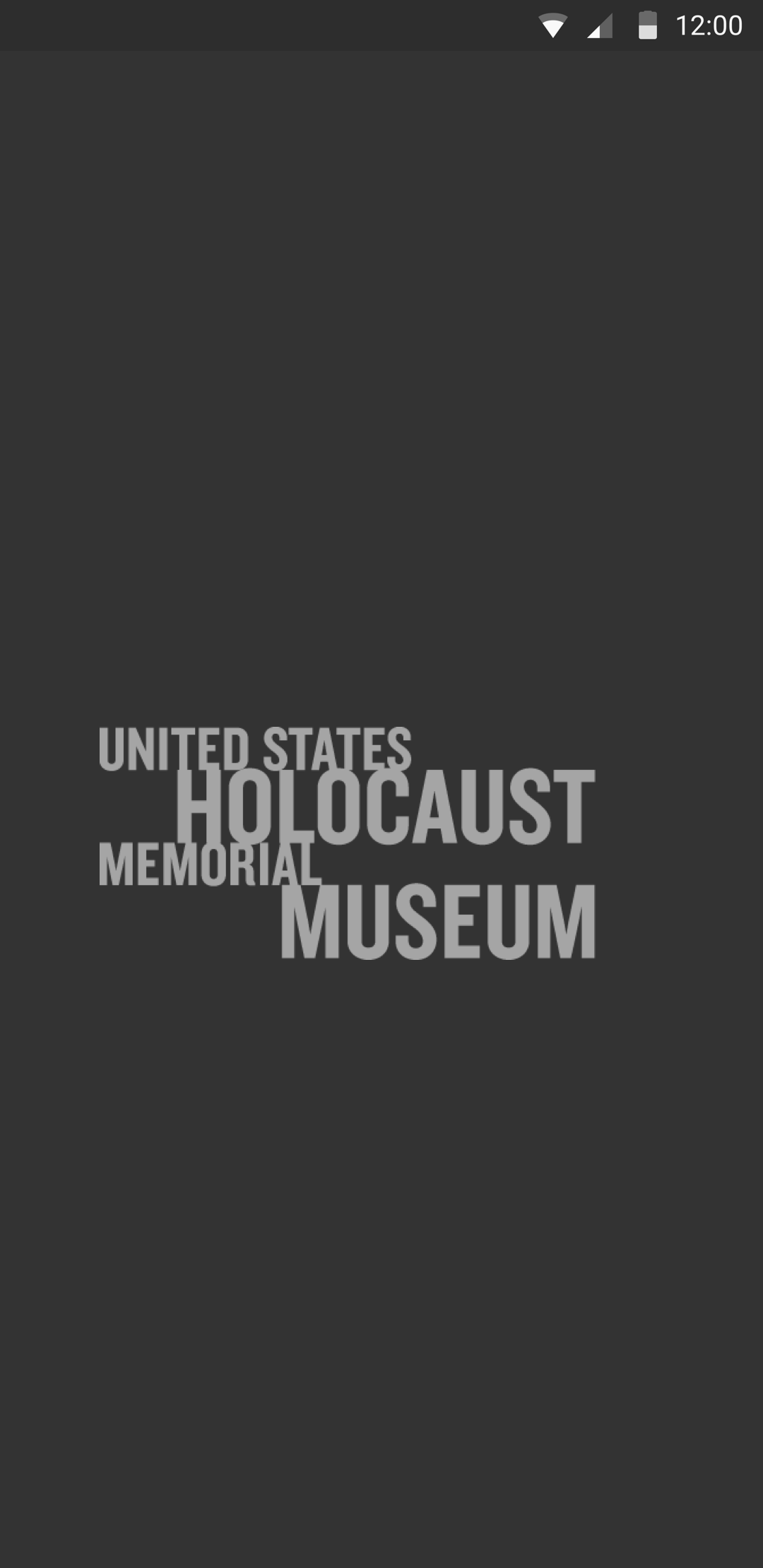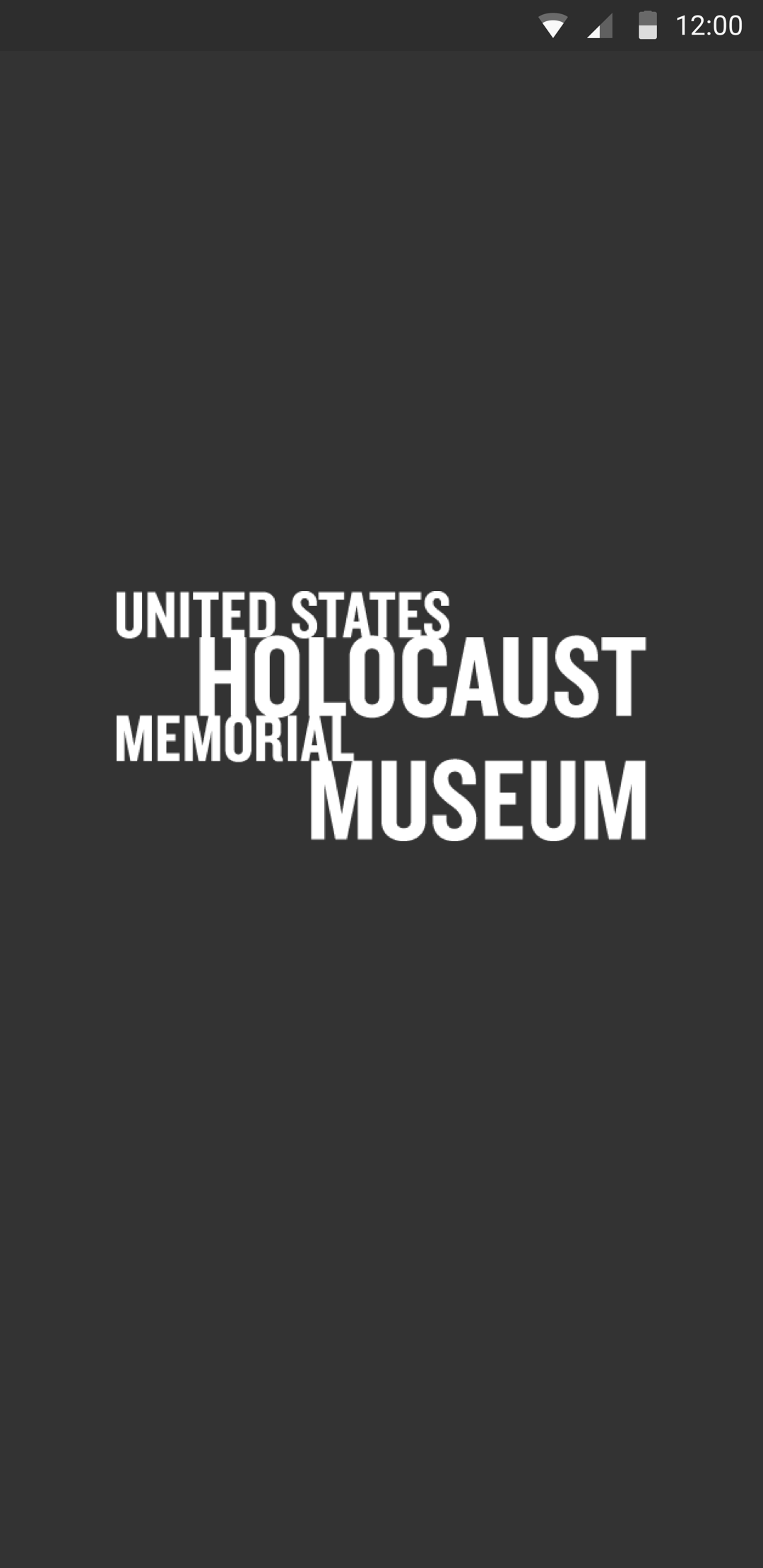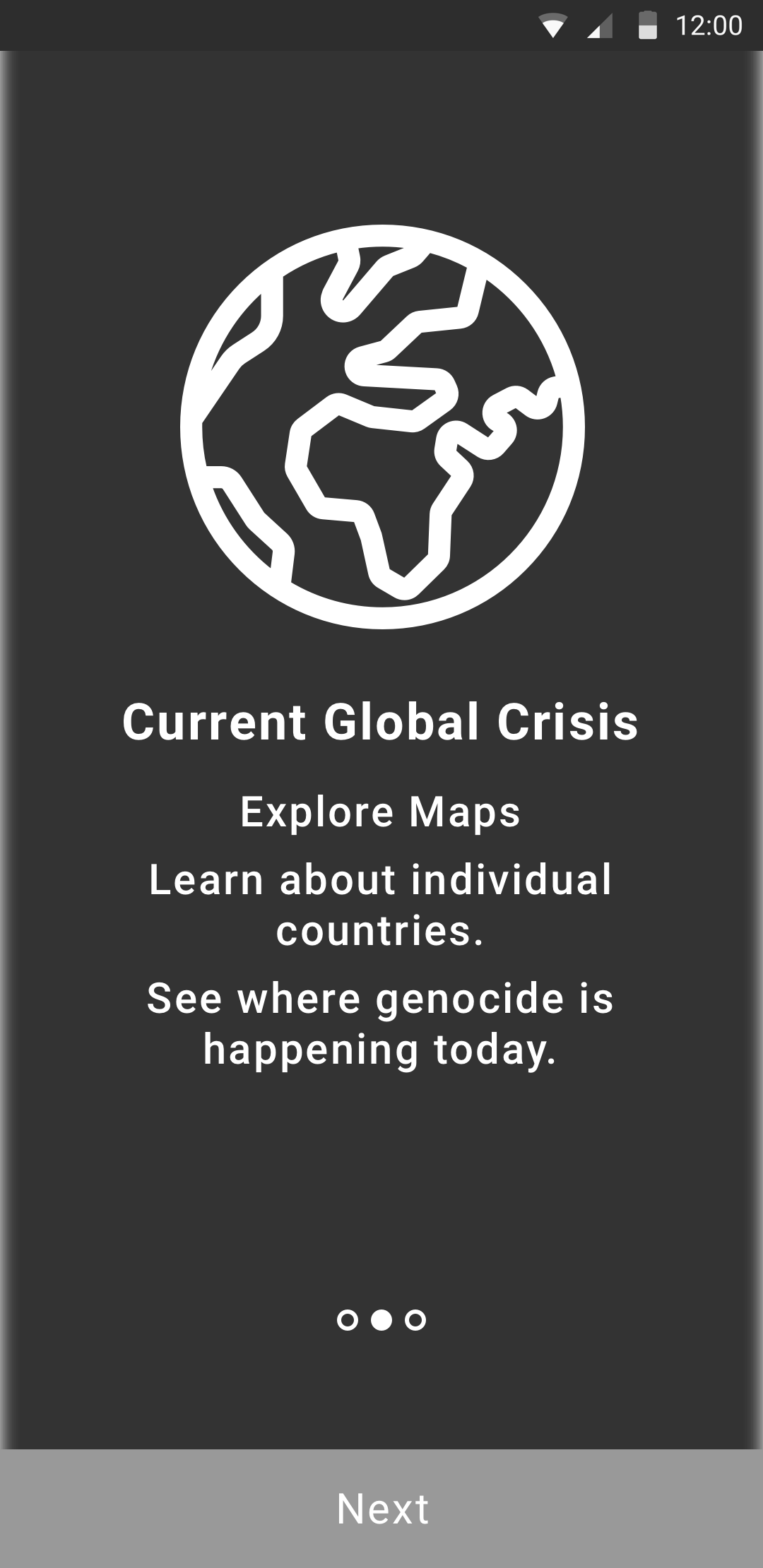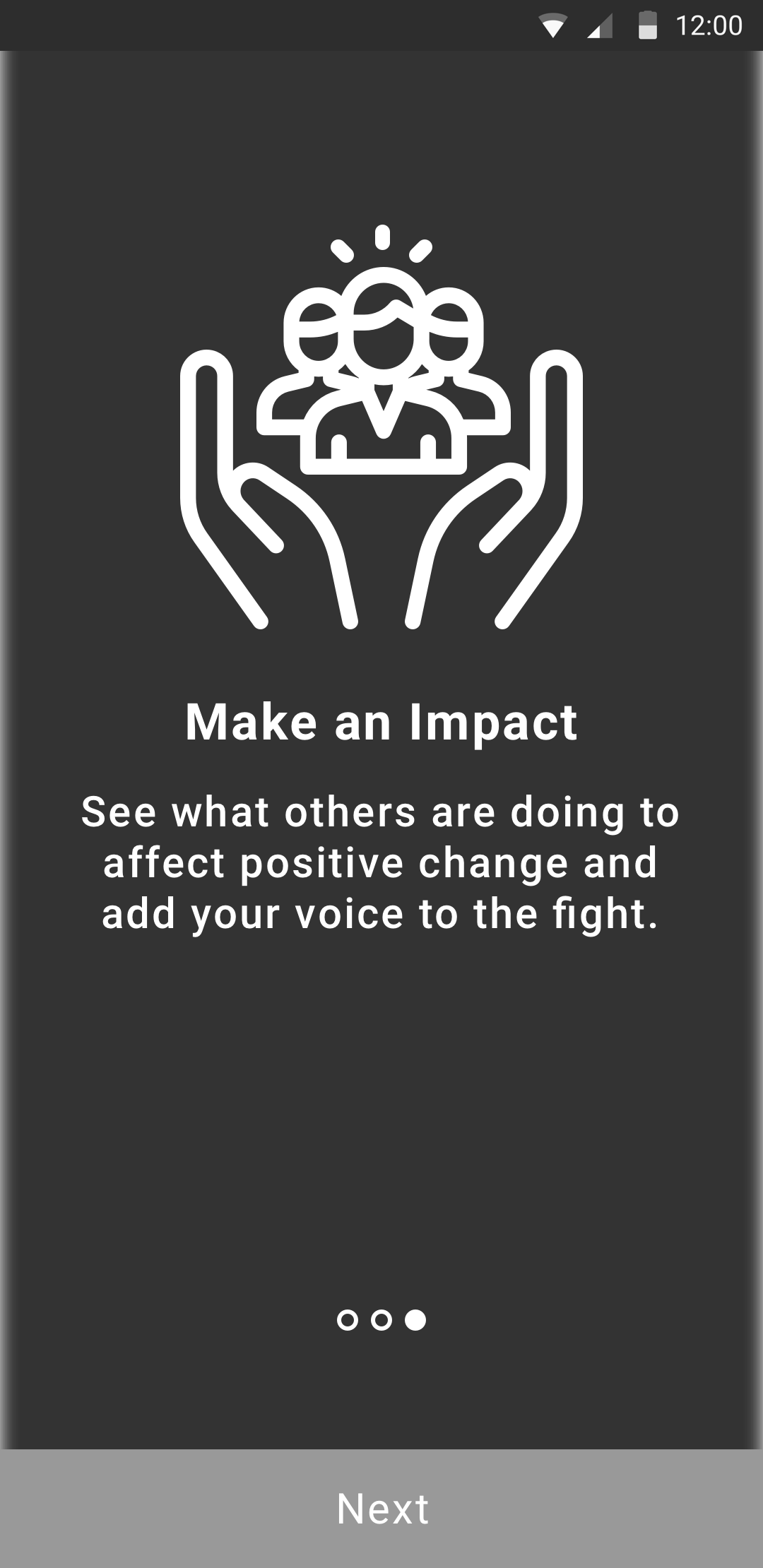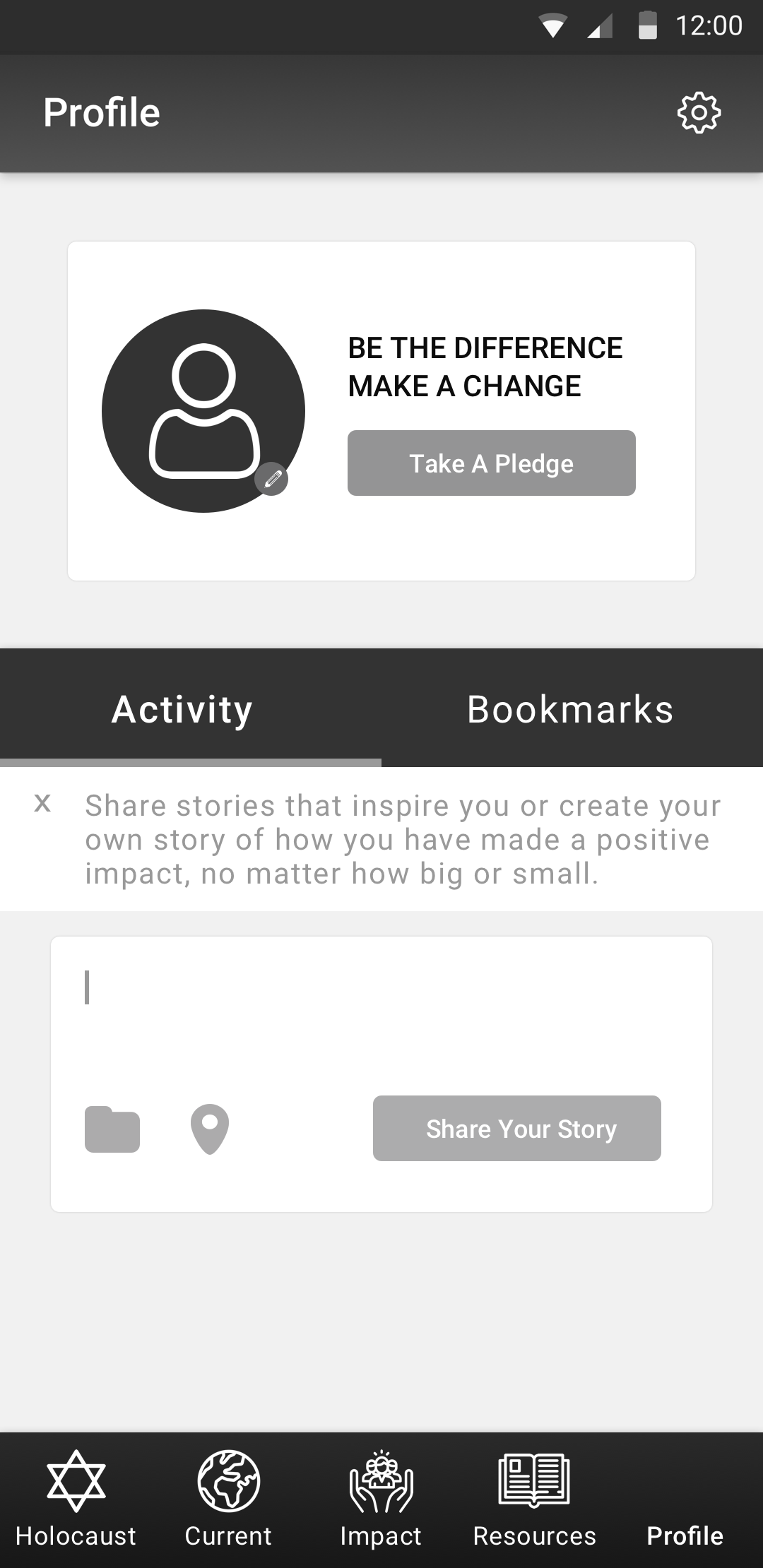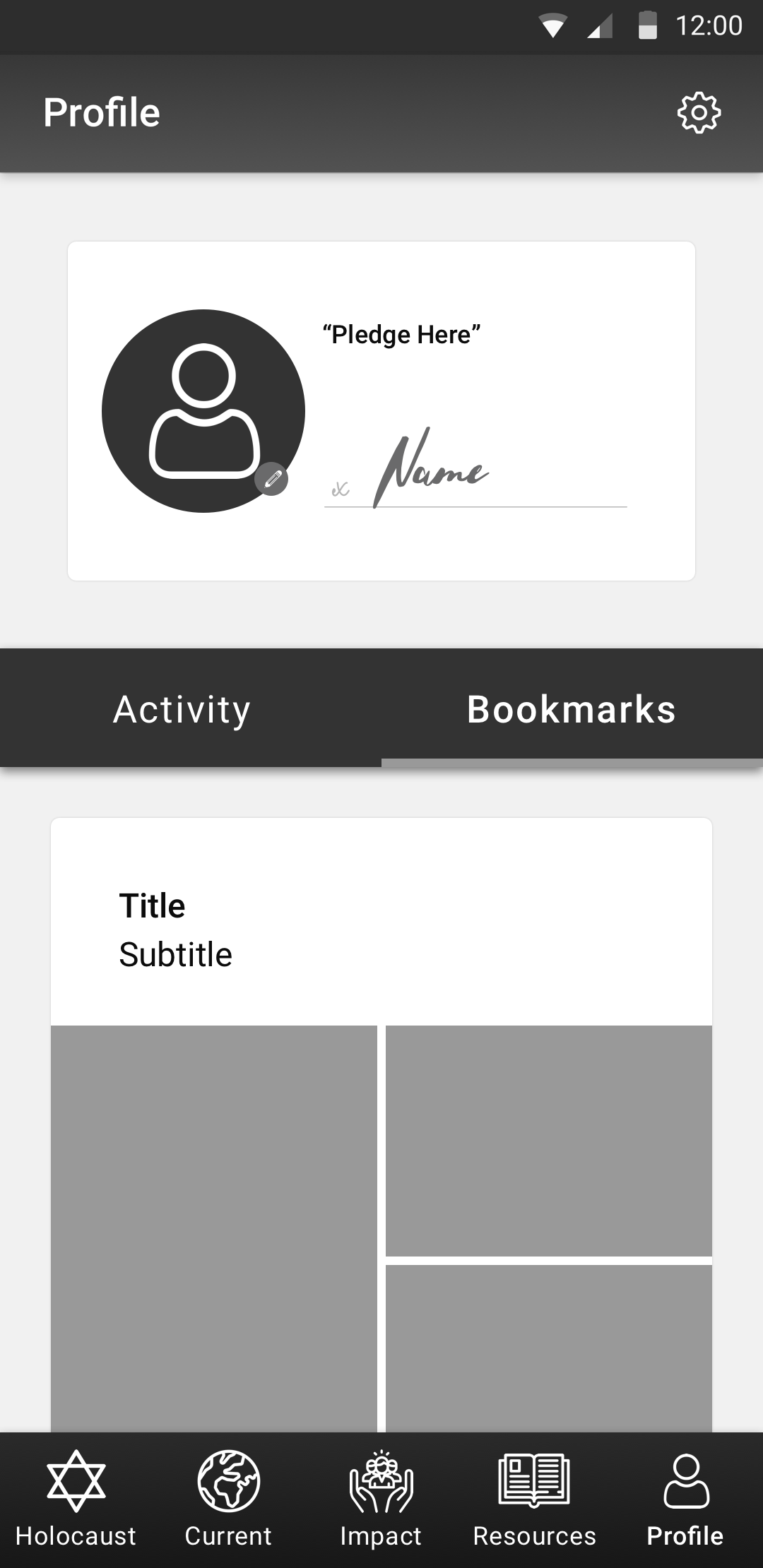 We didn't create a style guide in our project time so I created a quick style guide based on our existing creations.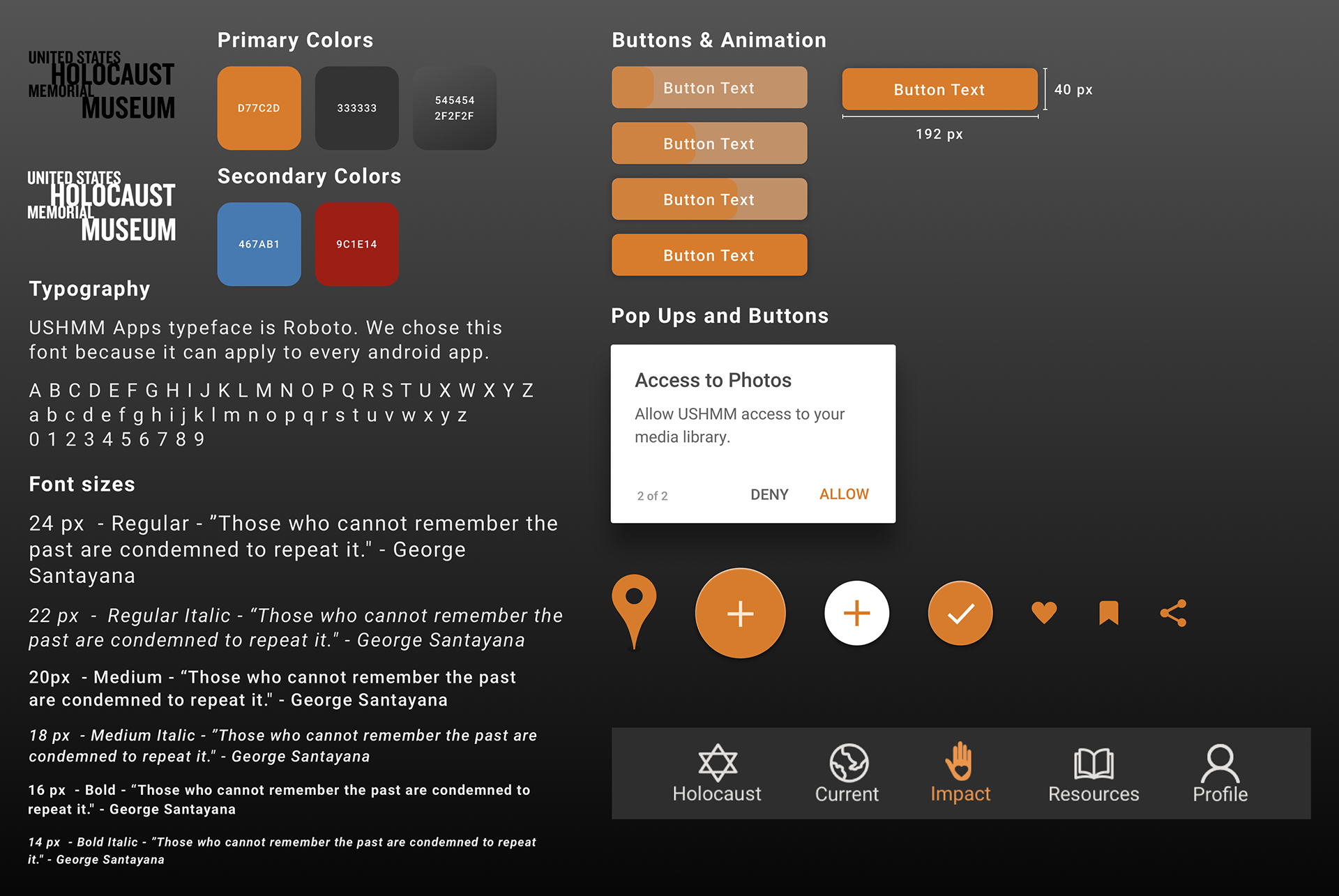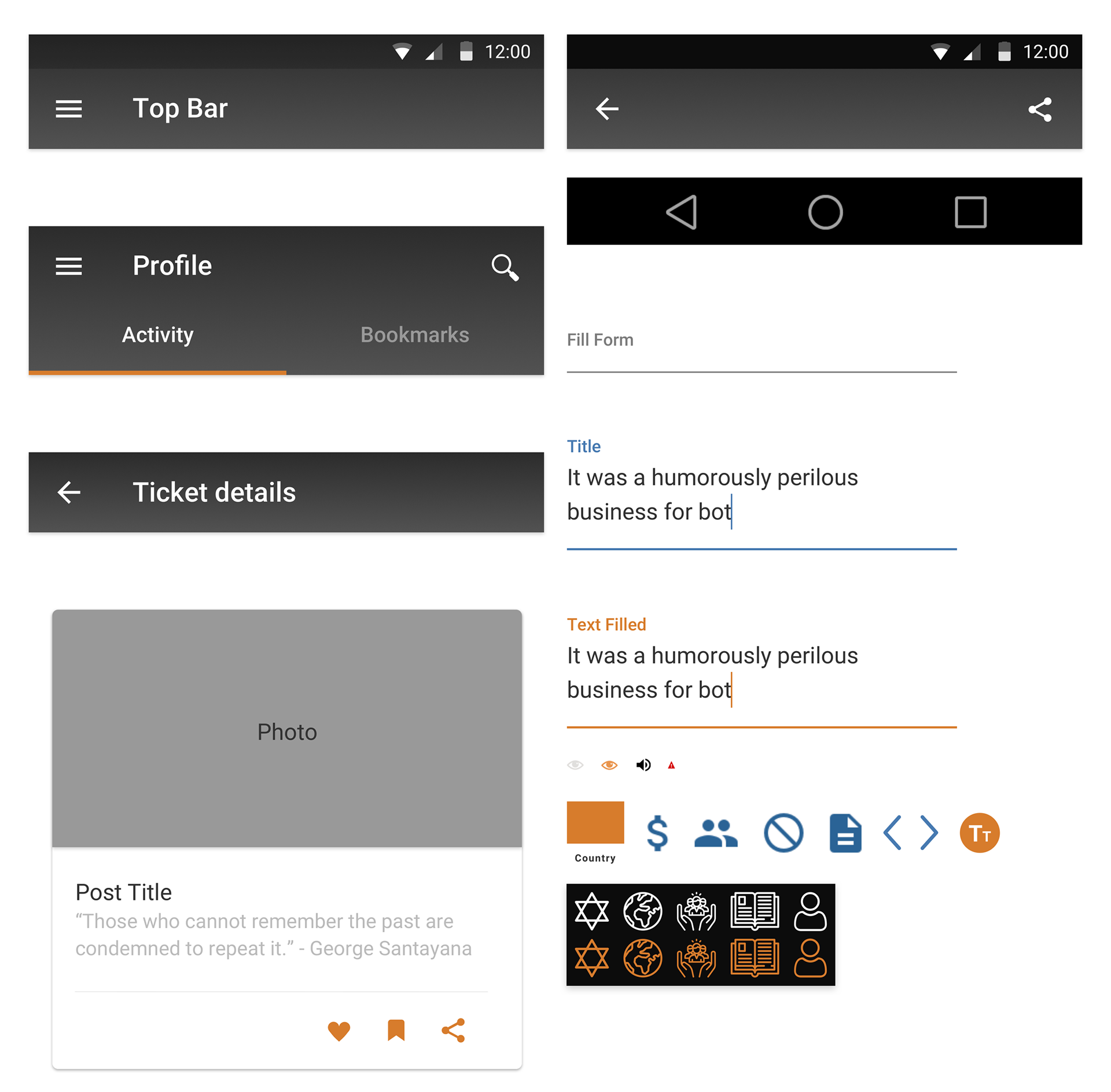 There are some of my results after applying the style guide into my wireframes. The end results turned out to be great. I am quite proud of my work. The entire creation of the app came together and was now ready to see what the stakeholder has to say.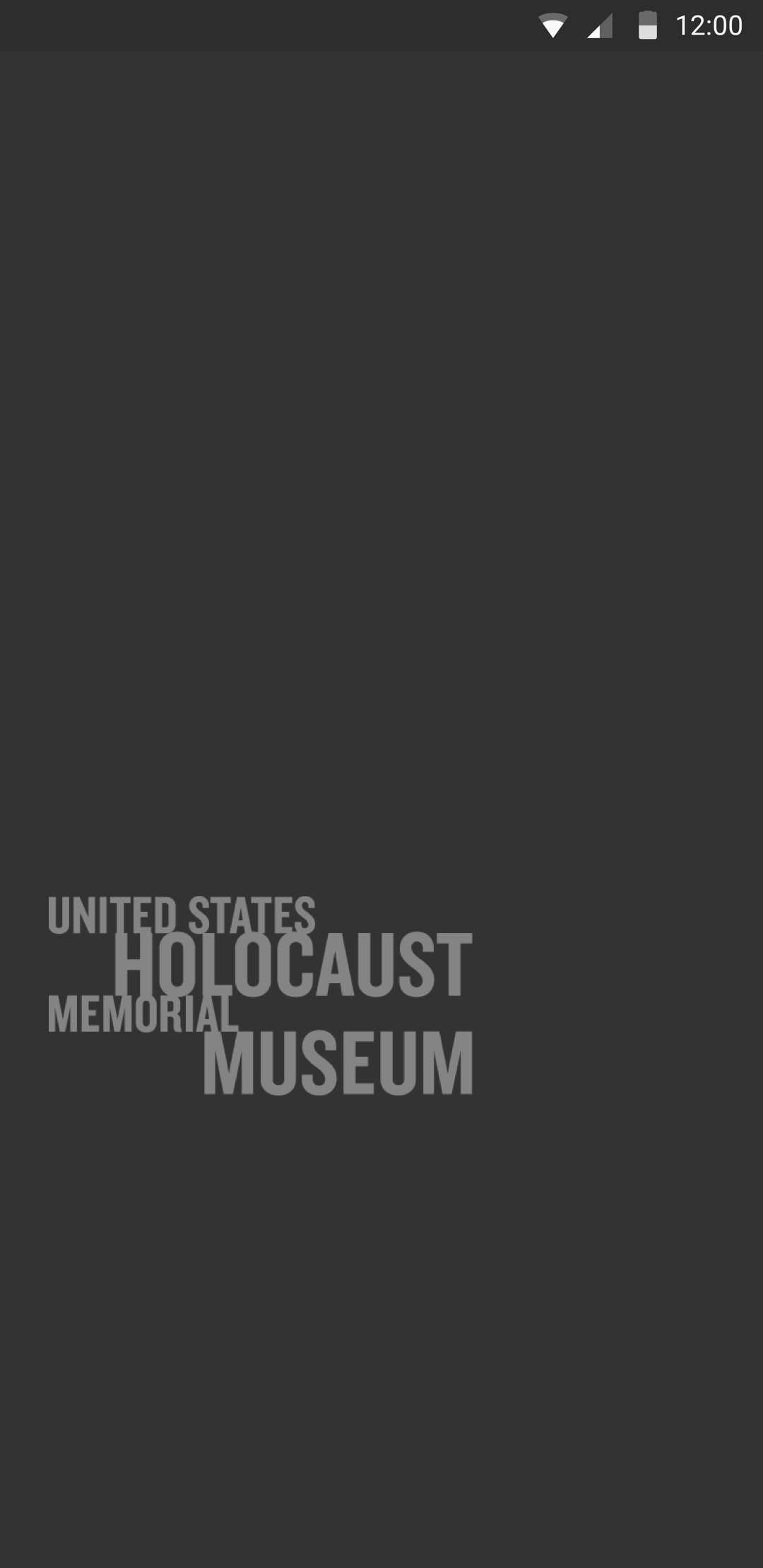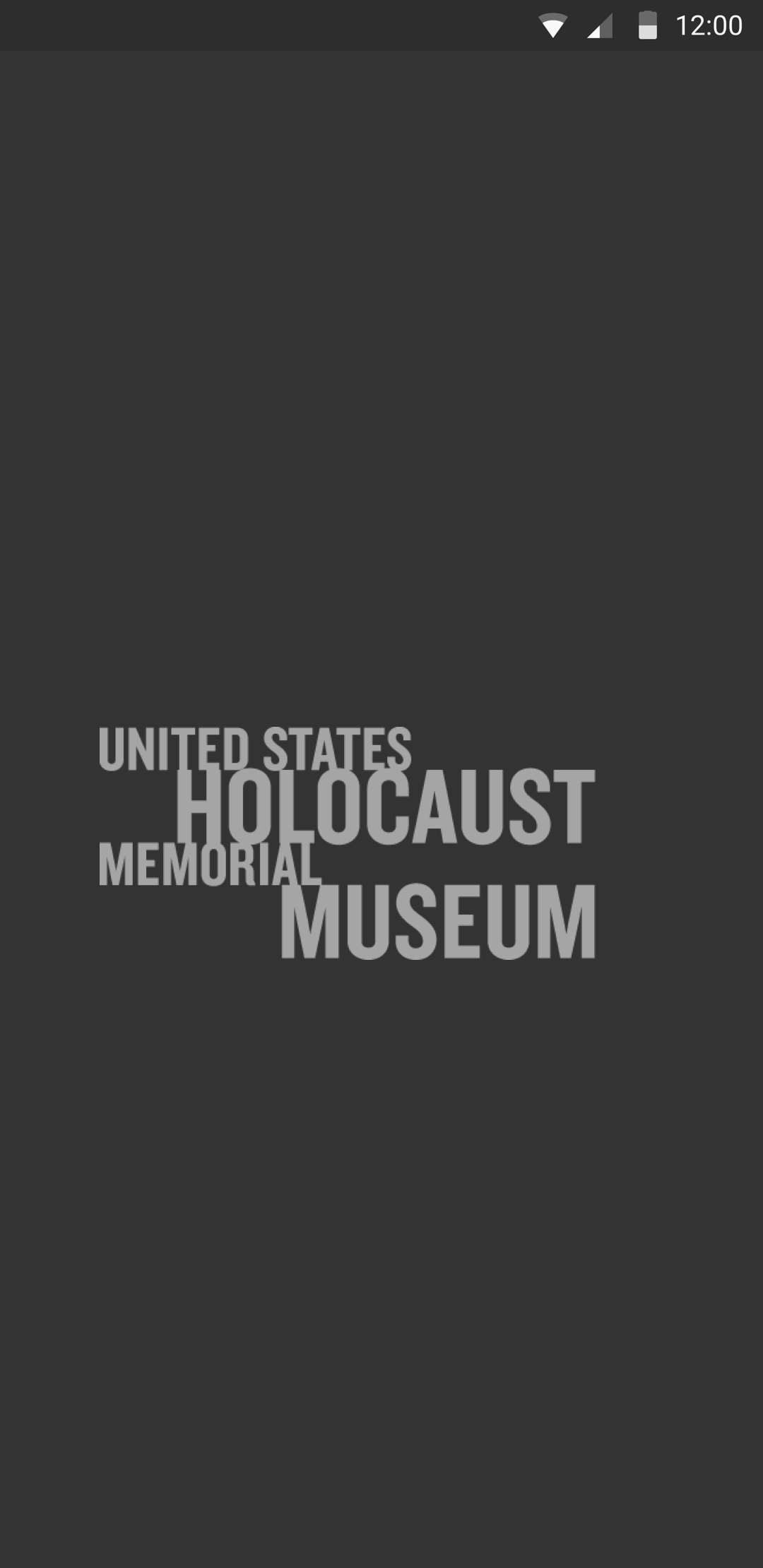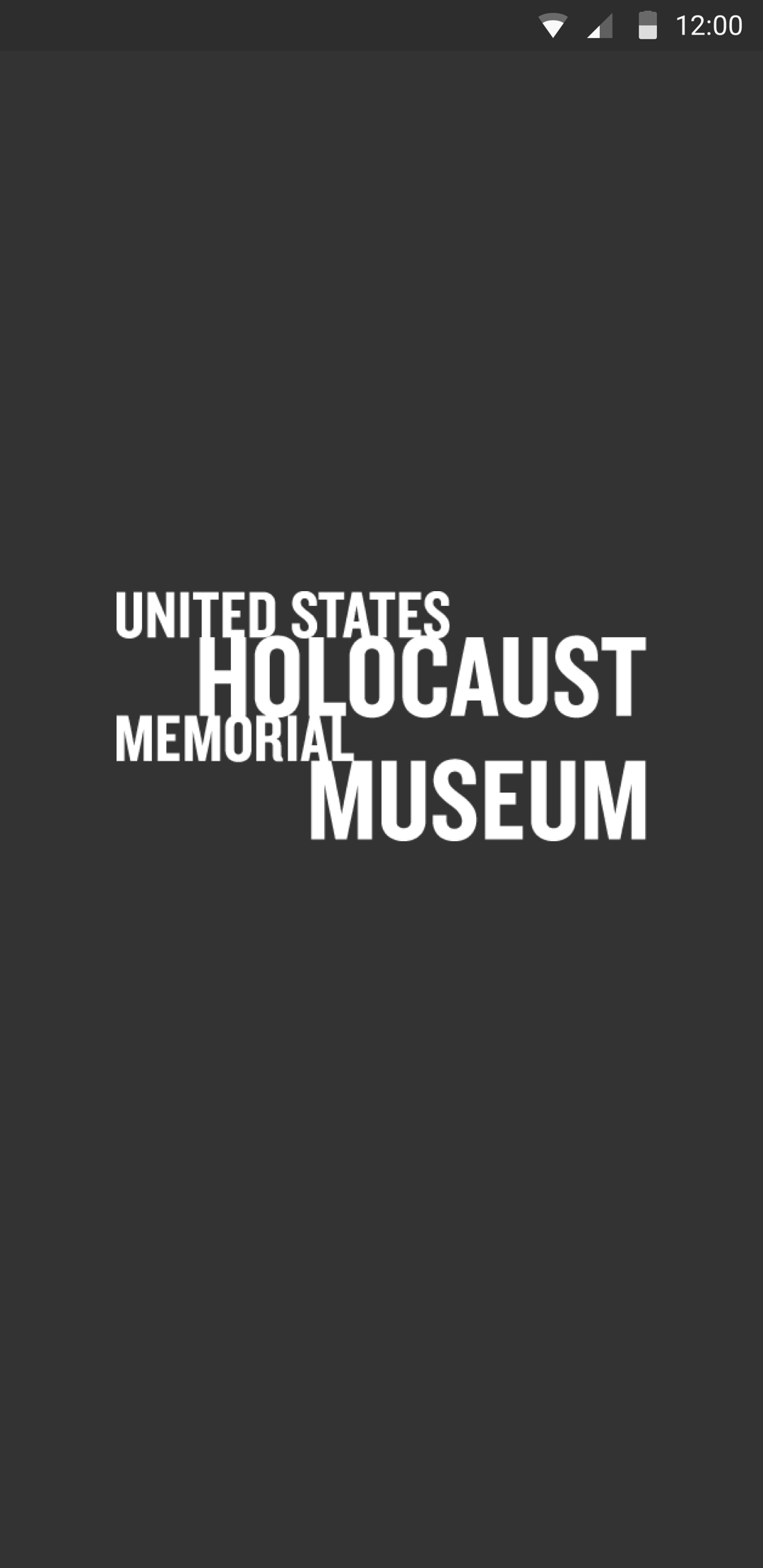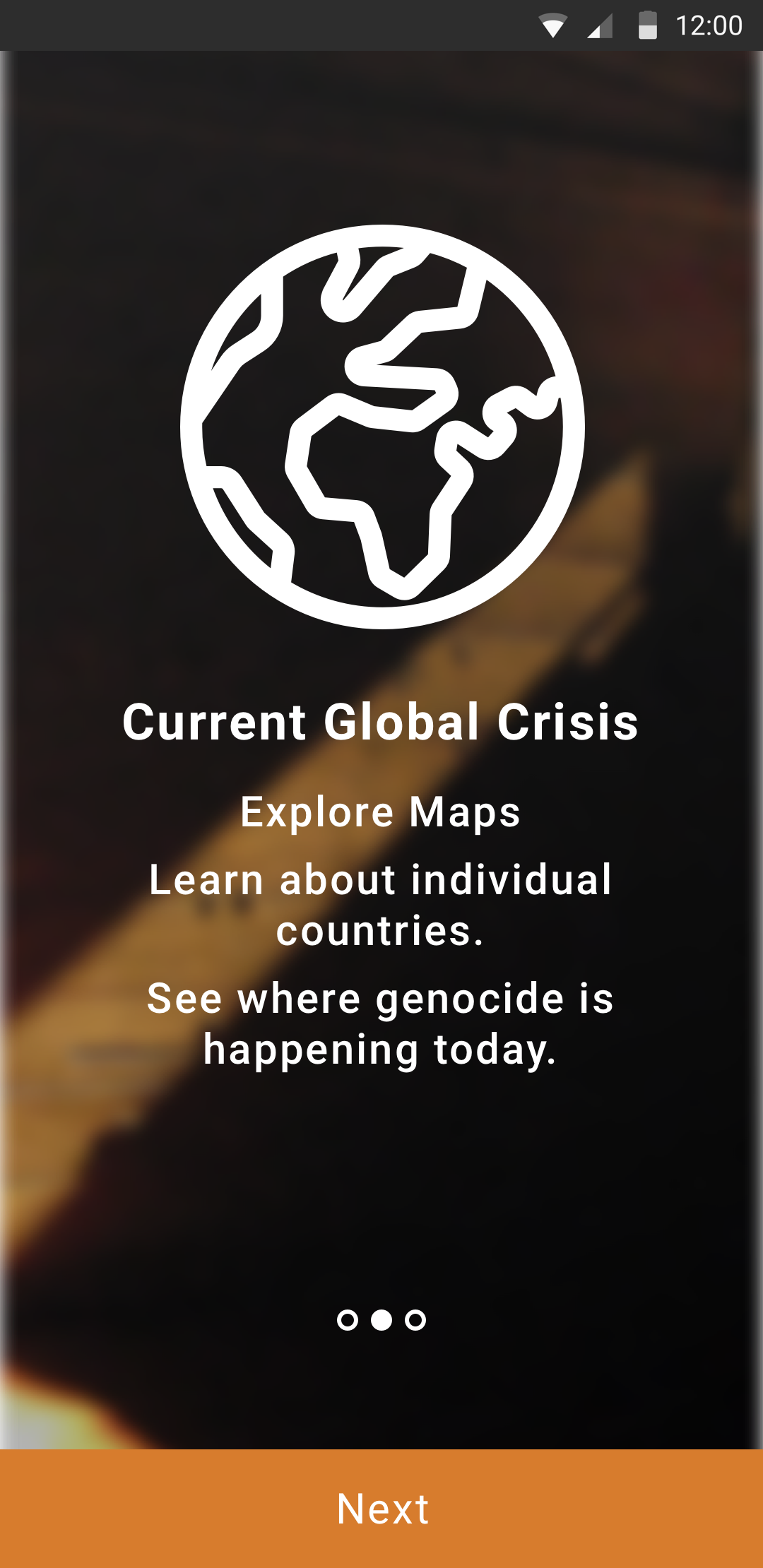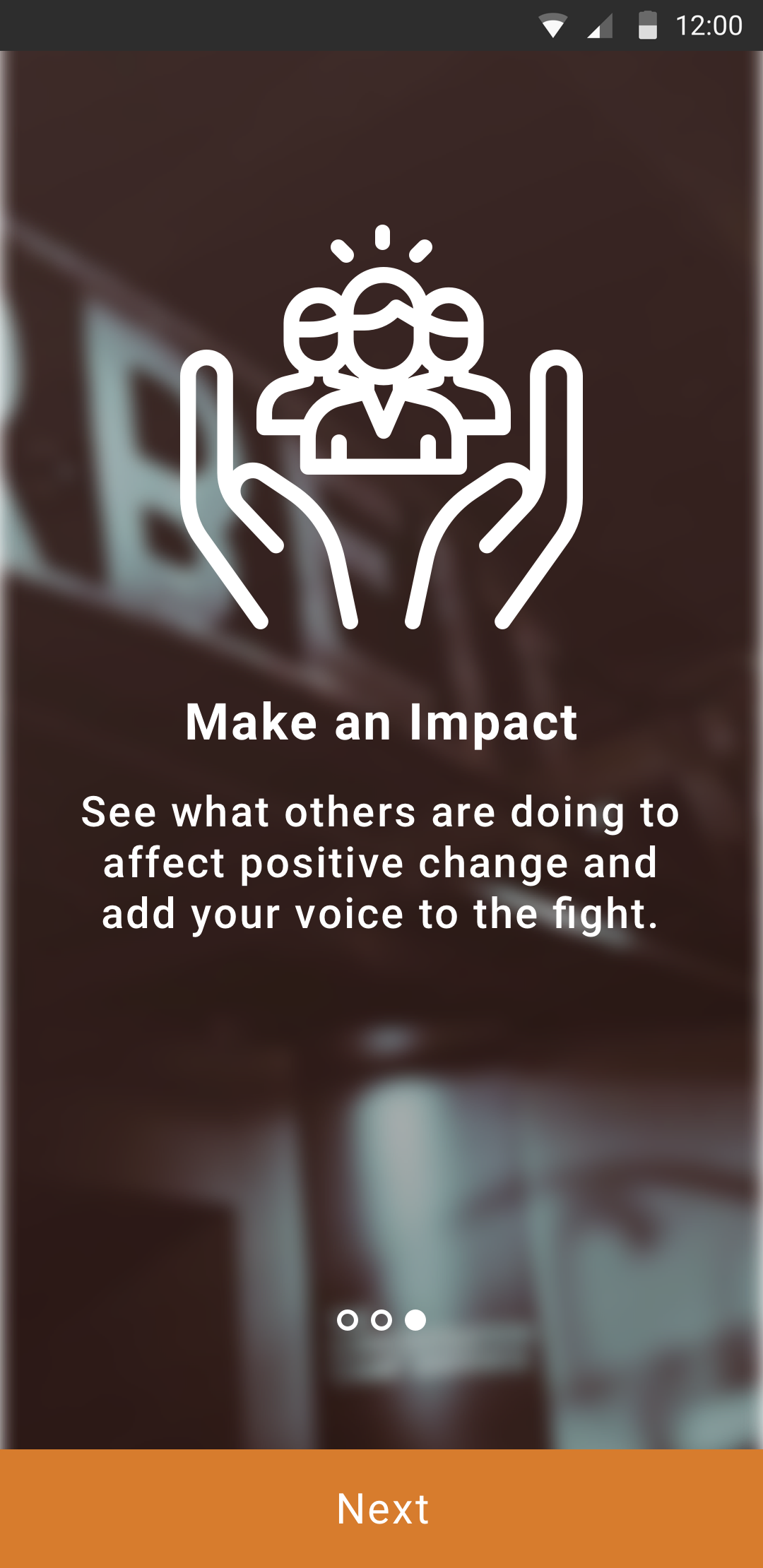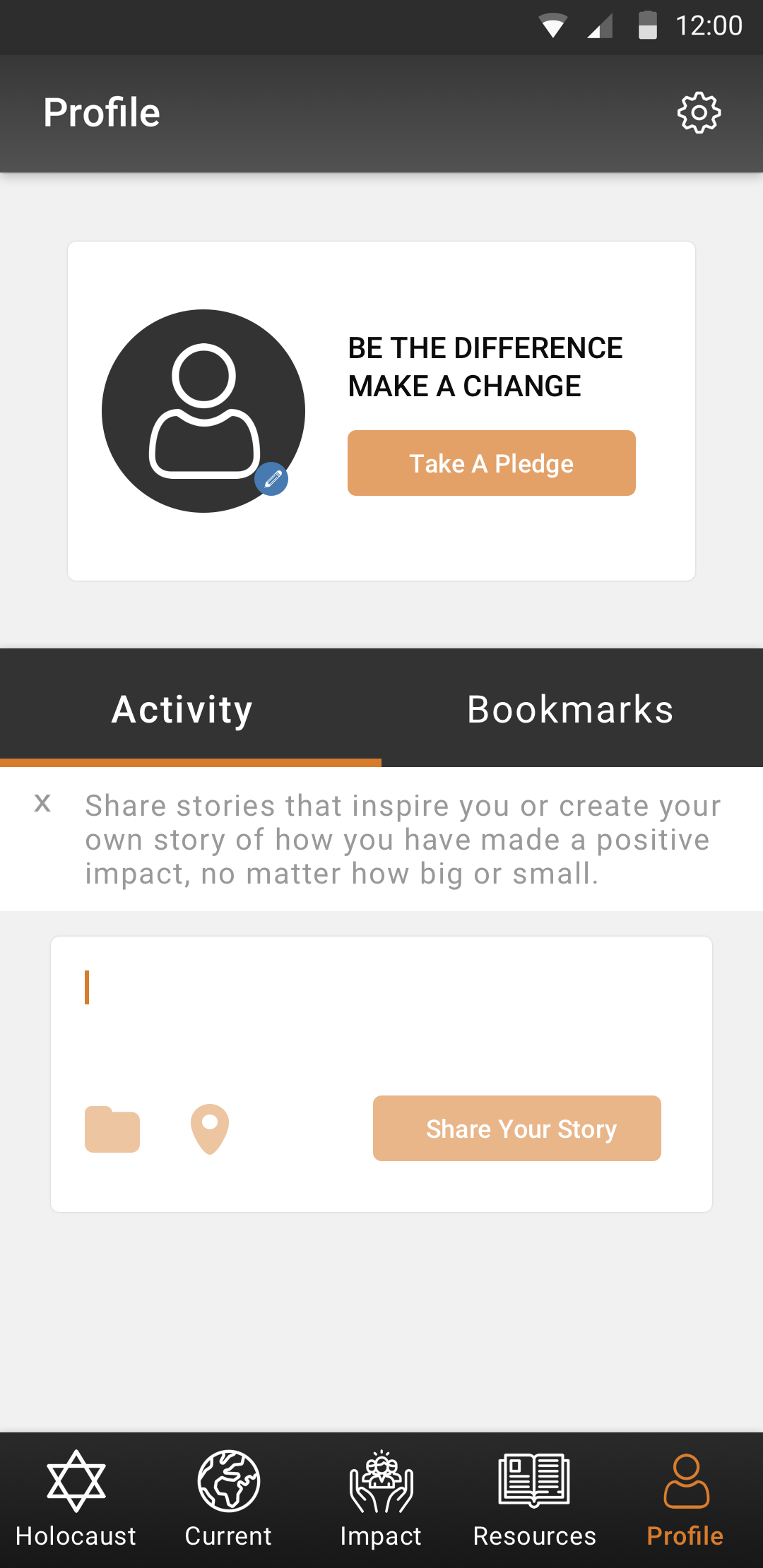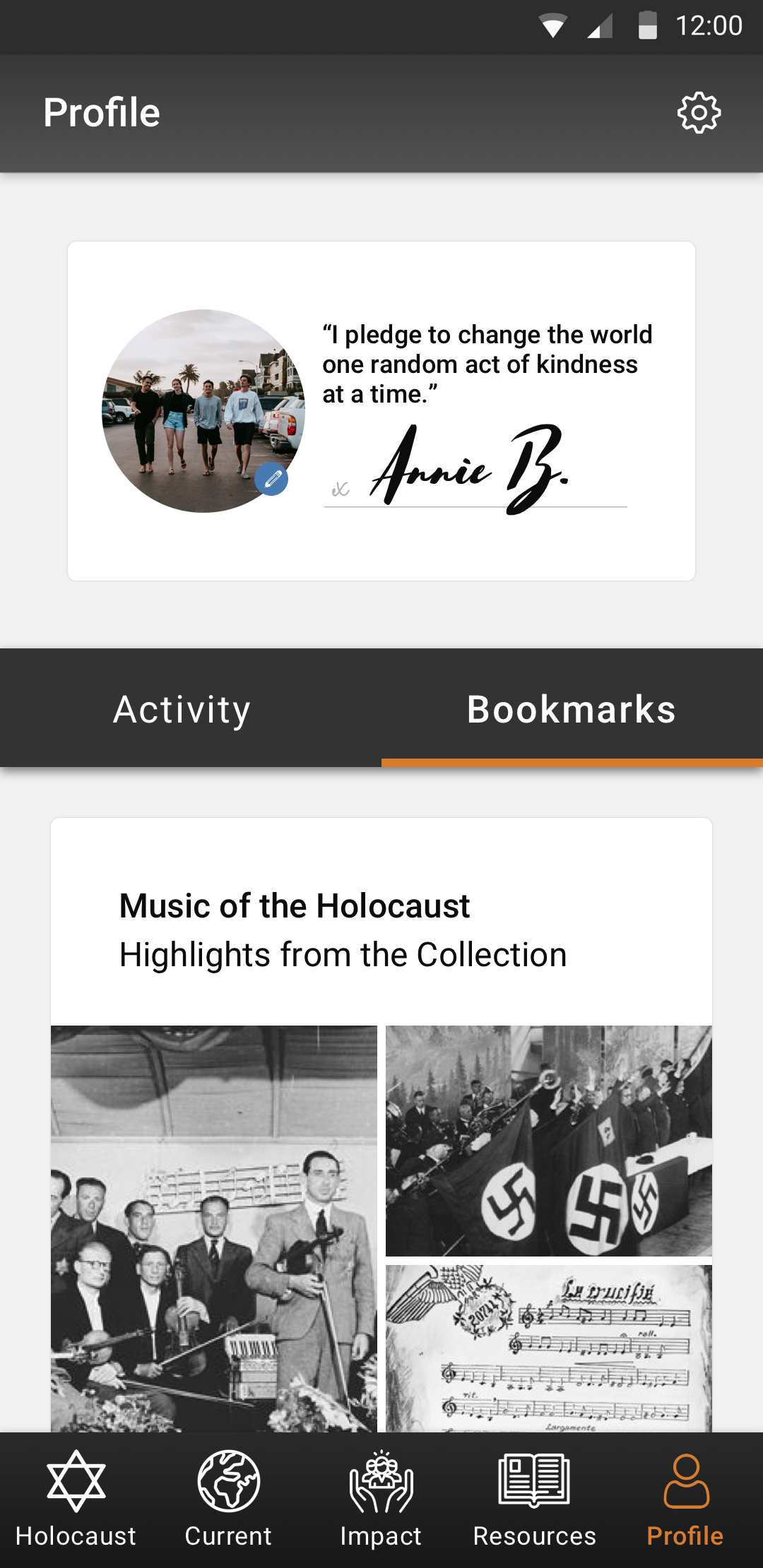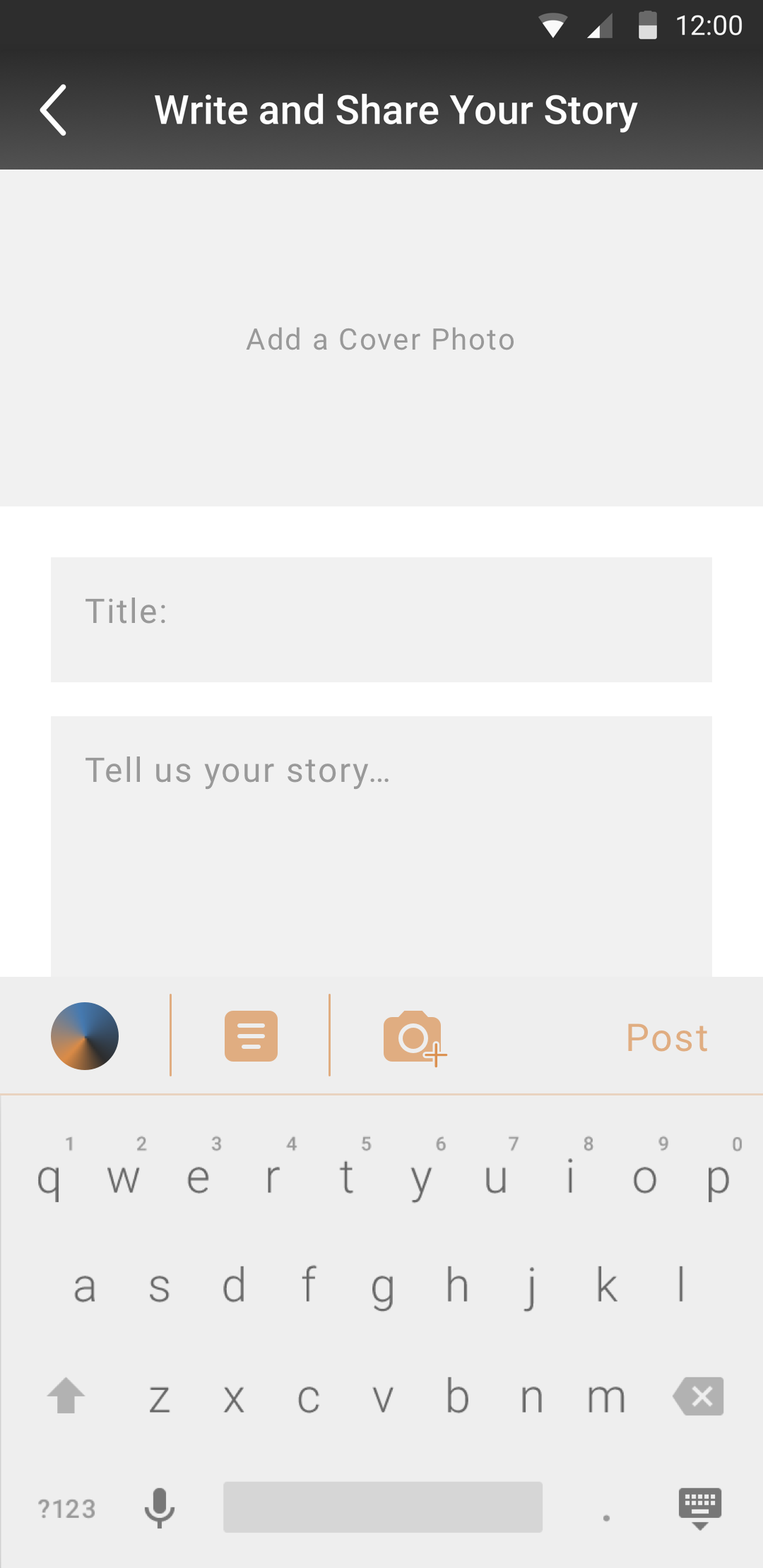 With the high fidelity wireframes, I created an InVision prototype on the sections I designed. I conducted user testing on how a user may react on the Onboarding portion. Also on Making a Pledge as well as Posting a Story. I examined how the user interacted with the UI and then I asked a few follow up questions. Since the stakeholders clearly wanted to focus on a younger age group, I went to a Jr High School and conducted some user testing on the whole app. With the permission of the school and parents, I was able to do a little over ten students. I am still intrigued by how to make the app better so that I can make design changes. However, because our teams were so crunched on time, I was only able to document the data and pass it forward.
Stakeholder Design Review
Our cohort, located in Salt Lake City, UT scheduled a review on March 3st. with the USHMM UX team back in Washington D.C. Since we were doing a video conference, our cohort decided to divide up sections of the app and assign each member a focus subject. I was to show the USHMM UX team our end results, the high fidelity prototype of our creation and conclude the presentation section so that the team can give us feedback.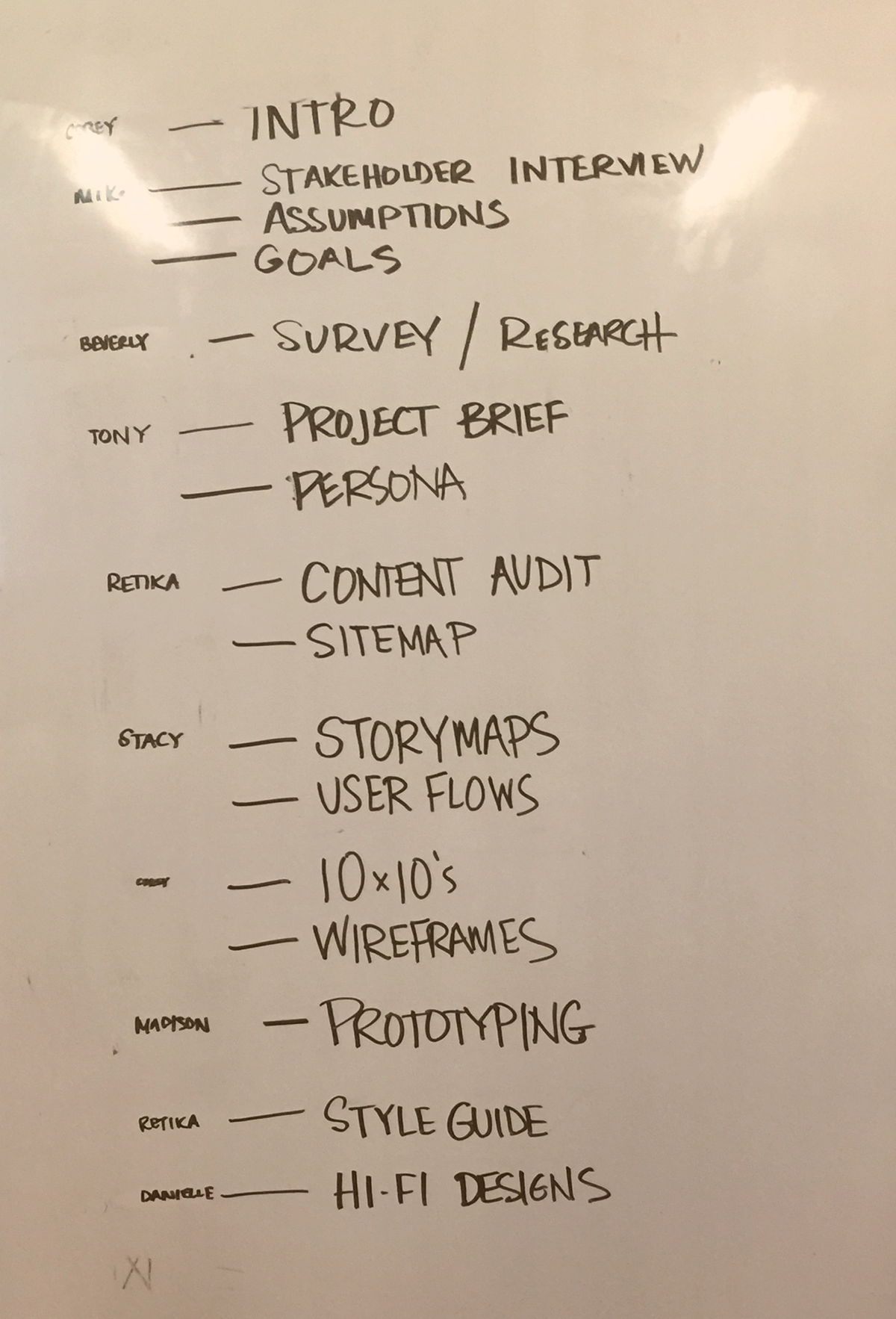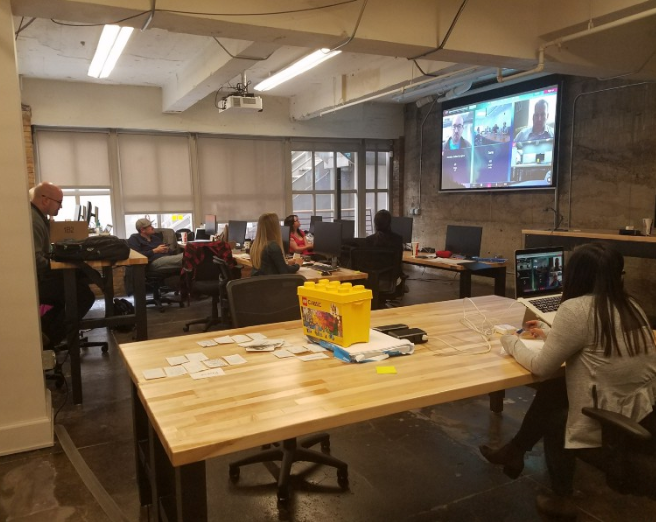 The team at the museum gave us a lot of feedback on our process and designs. From my point of view, they were impressed with the cohorts ability to complete this project in about three to four weeks time. Each member of the team presented a section of the app assigned to them and receive feedback from the museum. We were able to discuss how we can improve with more user testing and jokingly talked about the time given, with all the teams wishing there were more of it. They were quite focused on user testing and how very important user testing it is to create a good app. With all that information, I embedded that element in my personal process and have made it a goal make sure to do more of it. The museum was quite happy about the results from our user research before ideating and that the designs were incorporated for both Android and iOS. With all of this, we handed all of our work over to Sean so that he can go forward with the creation of the museums first mobile application and thanked him for the great opportunity to help with this project.
Shawn Perkins, Creative Director for USHMM
DevMountainUX Team Members Beverly, Retika, Corey, Madison, Stacy, Tony, and Mike
DevMountainUX Project Managers Brandon, Greg
The United States Holocaust Memorial Museum UX Team